August 10th is coming up so soon and we couldn't be more excited for you to finally see the season premiere of Stargirl's sophomore season only on The CW! If last season was learning how to be a superhero and taking out the bad guys, this season is straight up a horror film! Pure evil has set it's sights on Blue Valley and it will take the entire JSA to push it back! Today, we are so excited to share with you our conversation with Stargirl's own, Meg DeLacy, who plays Cindy Burman aka Shiv on the show and is an incredibly talented singer as well! It was such a privilege for us to take some of her time and talk about Season 2 of Stargirl!
Stargirl.tv: Season two was filmed entirely in the pandemic, what was that like?
So, there were a couple of things to kind of get used to routine wise, you get tested every single day. Masks are required. The whole 6 feet apart thing on set was implemented. Sometimes it wasn't the easiest thing to do. Just because everyone, you know costumes and makeup and training for sets and how everyone kind of needs to be a little hands on. That was some getting used to. Sometimes we had to cut corners occasionally. But it wasn't like we were doing it unsafely. Everyone was tense every day. So we all felt pretty comfortable. But other than that, not seeing people's faces was kind of sad. Coming back to season 2 people were like, "Oh my gosh, hi" and I hadn't seen people in a year and I couldn't really see their face. So I acted like I knew who they were until we started talking a little more. That was a little odd. But other than that, we were able to transition nicely, and everyone was able to work together properly and creatively. It was very fun!
Stargirl.tv: The pandemic wasn't the only change, Stargirl moved exclusively now to The CW. Were there any changes from moving to a new network?
You know, no, I think our budget could have changed slightly, but we saw the end product and it looks exactly the same. All the money was put on screen and the storyline, honestly the storylines and the characters themselves, the origin stories and just how we got to get to know these characters in a deeper way, that actually got better. The CW writers for Stargirl specifically are so good. They kind of know their characters and their actors now, so they started writing for us, which was kind of really custom and cool. So I think it's honestly better.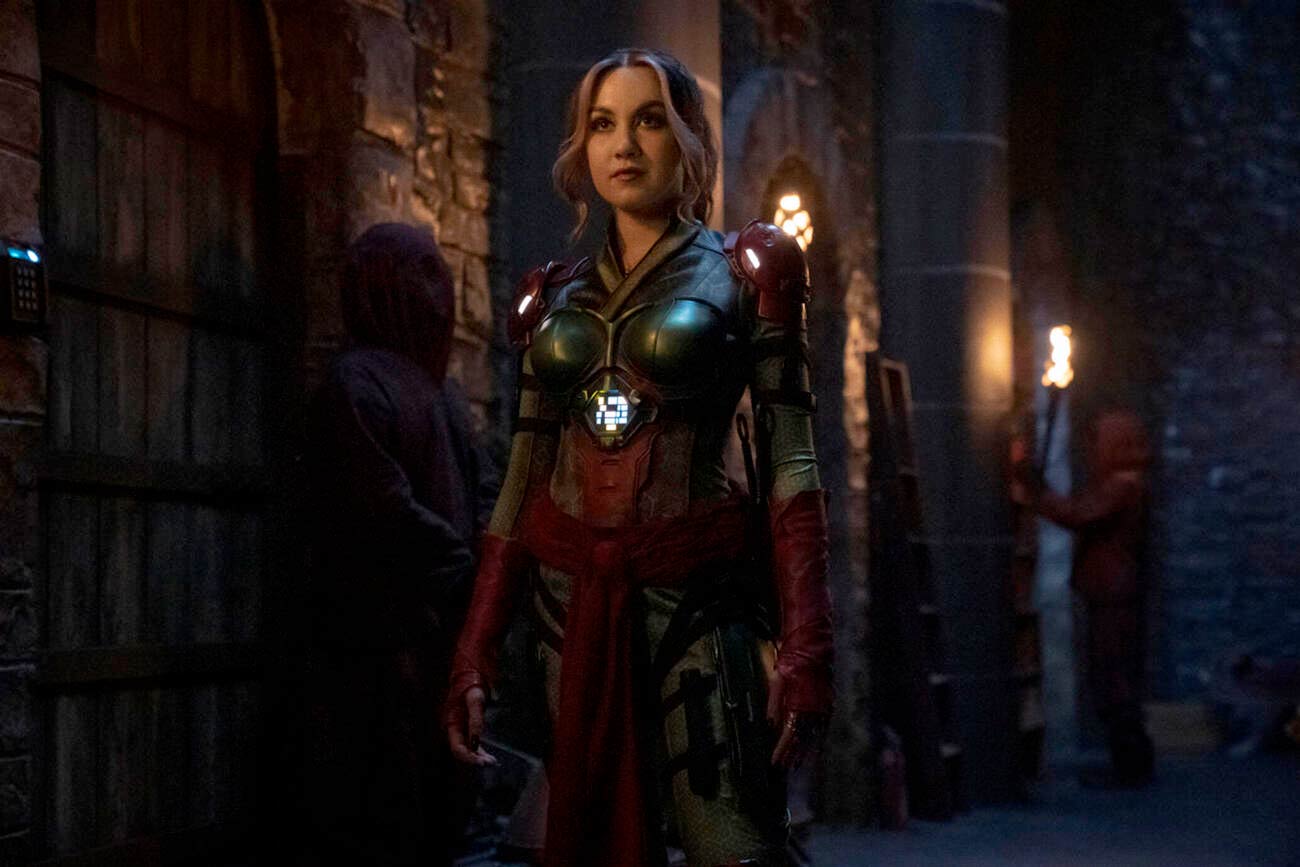 Stargirl.tv: In the end of season 1, Cindy is seen taking the heart of darkness (the black diamond) from the ISA storage, what can you tease for Cindy in season 2?
Yes, Cindy is on a whole new mission, she spent pretty much the last six months learning about the black diamond on a hidden island learning about the diamond, kind of creating this in-depth relationship with Eclipso who lives within the diamond and just learning the history and the rise and fall within the ISA and the JSA impact.When you see Cindy back in season 2, she's on a full-throttle mission to create her own team and her target is the kids of the ISA adult members. So for the majority of the season, she's on her own kind of doing her own thing using Eclipso's power to control and manipulate these kids into believing that there is wrong [in Blue Valley] and that wrong is the JSA and Stargirl. So it's kind of this push and pull between her and Eclipso because he is a master manipulator and knows exactly what he is doing. In her head, she thinks that it's like a partnership but really Eclipso has other plans up his sleeve and she's kind of thrown for a loop this season.
Stargirl.tv: In one of your Instagram posts, you mention you kept finding photos and videos of the cast on your phone. It is pretty clear you guys were having fun, what's a favorite off-set memory while filming season 2 of Stargirl?
Later on in the season, I got to work with the [Whitmore/Dugan] family a little more and working with Trae Romano and also Amy Smart was so fun. We hardly kind of conversed season 1 because of just our schedules and everyone was apart doing their own thing and working with them in retrospect was just like silly fun. The [Whitmore/Dugan] family itself is actually hilarious and the dynamics between the actors off-screen was hilarious and then at the end, all of us get back together. The good heroes and the bad villains, everyone gets back together and we shot in this little town in Georgia and we were all kind of in the middle of nowhere and that was really fun, everyone all together again, just goofing around and seeing all of our characters come to life all in the same place. It was really cool. We'd never, in season 1, we really didn't get that. Not everyone was together in one day. That was my favorite.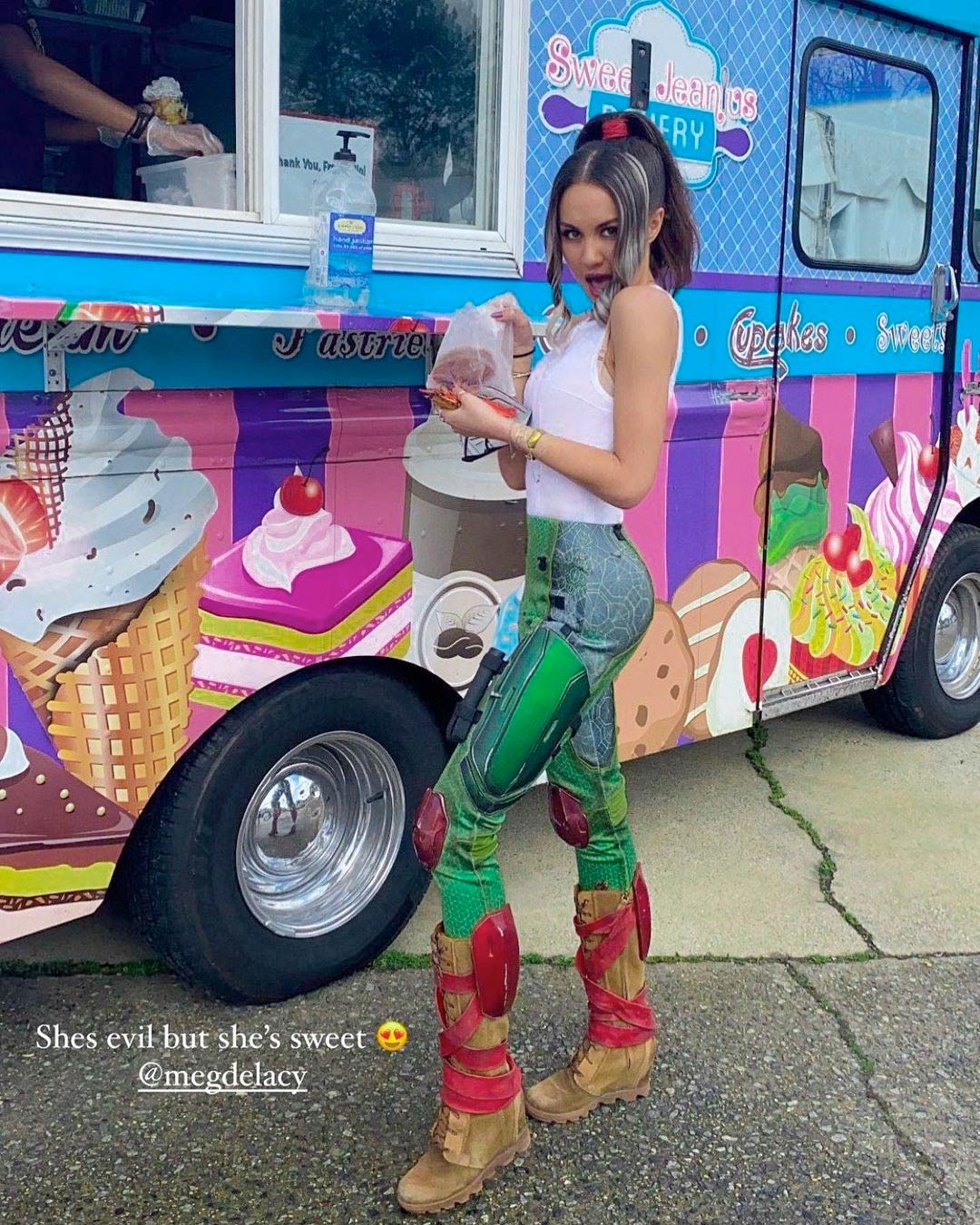 Stargirl.tv: Stargirl is particularly close to showrunner Geoff Johns since Courtney is based on his sister, what's it like working with Geoff Johns on a project that's so close to him?
You know it is such a blessing having him on set every single day because within every scene if you have a question, a character question, a future question about what's going to happen in the future, what happened in the past, he's there to answer anything we need. I got coffee with Geoff a couple of times to talk about Cindy's arc within season 2 and also just a fix within a couple of episodes that we wanted to dive into and talk about and it was so nice to be able to talk to someone who has such a background in DC and just these characters, we were able to flush them out so well. So walking on the set it was the clearest thing, he has the clearest vision on the set and he kind of shared that story of being an actor and bringing it to life. He also leaves room, in my experience, he left so much room for me to kind of play and do my own thing with Cindy since this is the first time she's ever been a live action villain. So the freedom I felt on-set was vast, it was so comfortable. It was very creative. It's very different I think from a lot of other superhero shows in general because your kind of in this box of this is how this character is and this is how it was in the past if they had existed before on a television show or movie.
Stargirl.tv: Being half Filipino and half white, I love seeing positive Asian representation and multiracial families. It's never questioned or brought up at any point, it simply was. What is it like to be working with such a diverse cast?
It reminds me of my life, it mirrors my reality as a girl who grew up in Los Angeles. I'm from Pasadena and I was surrounded by a very diverse group of people going to school out here and just being raised in a melting pot kind of situation. It was nice, it was a mirror, it wasn't anything odd because it was just how it was supposed to be and they were able to keep the cast diverse and the constant diversity throughout season 1 and season 2 and being part of a mixed family on the set through a television show was really kind of cool. I remember growing up and having a parent cast for me and they were like we don't even know what you are, are you Spanish, you're so ambiguous, and trying to find a family to fit was always a little bit of an issue growing up when I was younger. Now being a little older, Geoff found so much ease with casting my family and have it work so perfectly. I was like what is up with this? What was the struggle in the past? Yeah, it was a very easy situation when it came to family on Stargirl and everyone has their own background. Yolanda has her Spanish heritage and Anjelica with hers so it's really kind of cool to be in this melting pot, mirrored effect of my reality, it's very similar.
Stargirl.tv: Along with acting, you have a very clear passion for music. You've written your own songs, released 7 singles that are streamable on Spotify, do you have any plans for an album?
Yeah, actually once the majority of season 2 is released I'm going to be releasing a new piece with some new songs combined with some other singles I released last year, or I guess this year. I released some during the lockdown and that doesn't seem that long ago which sounds so weird.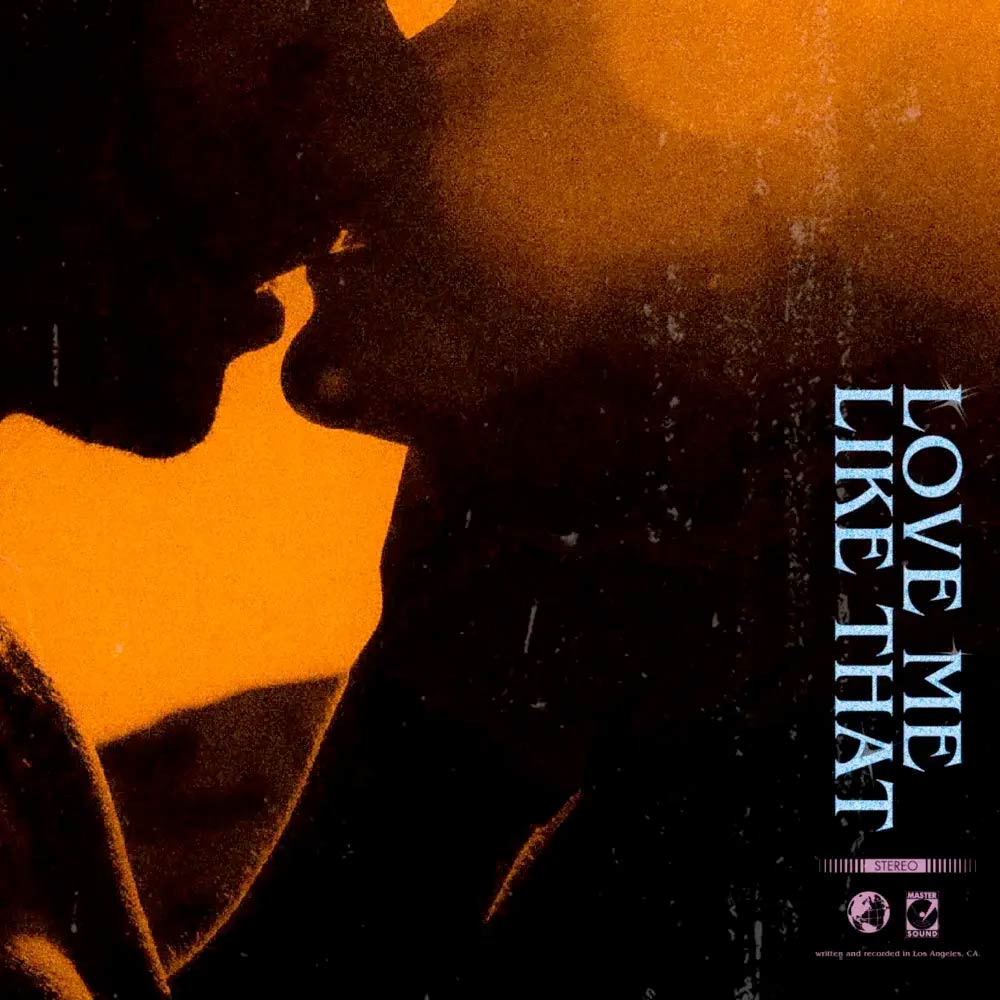 Stargirl.tv: Are there any shared skills acting and music share for you?
Well, I think that they definitely complement each other. I've been fortunate to work on projects where my music is involved with an acting project. Obviously, they're both creative, but music, as I said in the interview in 2018, allows you to be yourself. You're vulnerable, you're almost like selling yourself and that's a little scarier than picking your character and putting yourself away for a little bit and pretending to be someone else, sharing your version of this character that was essentially put on paper and you're bringing it to life. The similarities I think, in finding myself in Cindy and creating a human factor to her was kind of fun to do. Yes, she's a villain and yes, she's evil. I don't have shivs that come out of my forearms and I'm not a bitch to people but finding the human qualities that I have, the insecurities, the reasons I maybe make mistakes in my life, using that to kind of bring humility to Cindy was kind of fun. So obviously I do that naturally with the music and poetry and then singing and performing. Finding that grounding in Cindy's character, I feel that that's a pretty close similarity to both music and acting with this project.
We want to give our sincerest thanks to Meg DeLacy for taking the time to talk with us about Stargirl season 2, bringing Cindy Burman to life, and what drives Meg's love of music and acting. Stargirl season 2 debuts only on The CW at 8pm August 10th! Let us know your thoughts in the comments below and in the forum! Follow us on Twitter to get breaking news!