4/4/2021 10:58 am
Happy Holiday for those that celebrate, today there is another cause for celebration. In the middle of a pandemic, where television productions were haulted with no warning, processes and regulations were formed and put into place, and slowly new filming could begin, the incredible happened. Stargirl was able to film a whole new season! Just take a moment and think about how incredibly triumphant that is. Of the hundreds if not one thousand people who have to work together to work, talk, touch and train to make this show happen, no one worked outside the guidelines, no one was infected, everyone was safe, and the benefit to us, even as the pandemic sees a conclusion, we still get a whole new season of our favorite superhero!
WOW
What an incredible accomplishment that all involved should be proud of! Our thanks to the cast and crew who worked tirelessly in a very uncertain time, with potential dangers around every corner. Our very own Stargirl herself took to social media to share the wrap: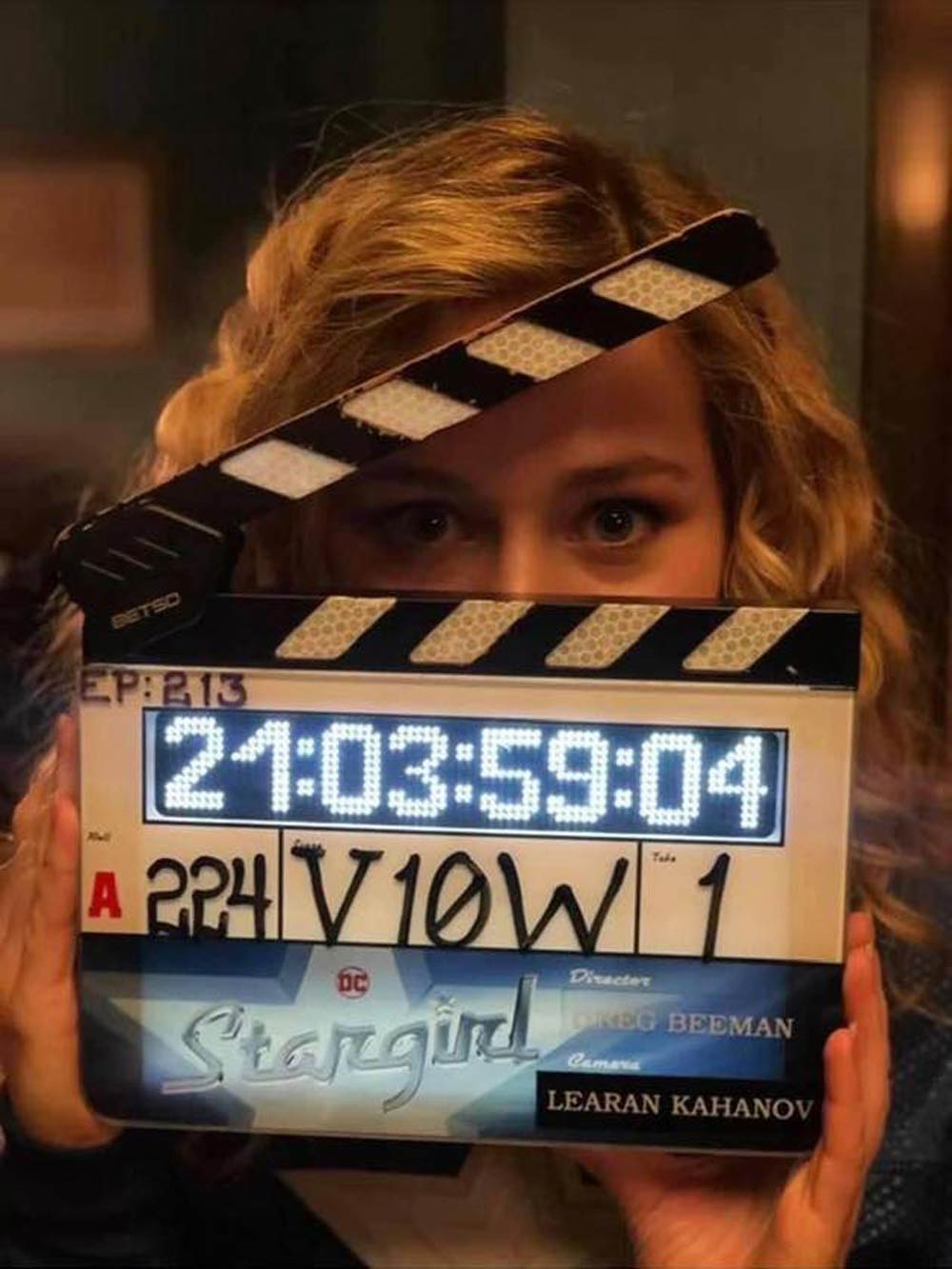 There is some photography left to take place, but with Brec finishing her work on the second season, and Hunter Sansone already being wrapped in March, the end is very near and we couldn't be more excited and proud of the great work that was accomplished.
Let us know your thoughts in the comments below and in the forum! Follow us on Twitter to get breaking news!
3/30/2021 10:00 am

STARGIRL FANS! Imagine our surprise when we logged in this morning to see that there was a secret set of new images from season 2 of Stargirl just released! Now here's a bit of interesting news. First, we all know that Stargirl's second season will start this summer, but in a newly released "Spring" sizzle reel on The CW's You Tube page, some new Stargirl content was released. There were really only four scenes and each scene was only a few frames. Because of this, we went through the video and took screenshots of the scenes because to present it as a video would only add a frame or two, that's how short the scenes were.
That said, the four images are so definitively Stargirl. You have Courtney smiling and in her costume as always, a scene with the Dugan Whitmore family seemingly sitting in front of the principal's office trying not to role their eyes, a shot of Pat seemingly with the weight of the world on his shoulders yet again, and finally a kind of Ferris Bueller's Day Off scene with Courtney and her staff, check them out below:
Let us know your thoughts in the comments below and in the forum! Follow us on Twitter to get breaking news!
3/16/2021 9:08 am

Greetings Stargirl fans! On the heels of hearing that Stargirl would return for their second season this Summer, TVLine.com is sharing the first look at Nick Tarabay's Eclipso! Nick Tarabay was cast as Eclipso back in October of 2020 and is no stranger to comic book based television. Nick played the character of Digger Harkness/Captain Boomerang on The CW's Arrow. Eclipso looks terrifying, with a mixture of impish sinisterism and cracked skin brimming with coruption. Eclipso is described as:
The ancient entity of corruption and vengeance, who is described as physically imposing and frightening. Brimming with a cold, terrifying darkness, Eclipso exploits the flaws of others, reveling in the impure and sinful, sadistically feeding off the dark side of humanity.
Check out the image below: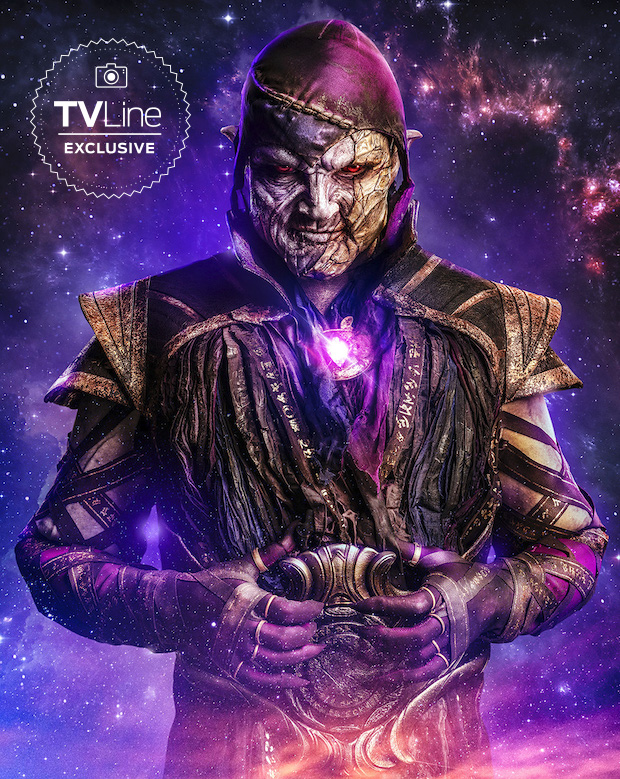 Let us know your thoughts in the comments below and in the forum! Follow us on Twitter to get breaking news!
2/23/2021 6:46 pm

As Arrowverse and Superman fans gathered around the television tonight to welcome the brand new Geoff Johns produced show, Stargirl fans got a sneaky surprise! We've long been wondering when Stargirl would return to our tvs on The CW for season 2 and while we didn't get a date, we did get a timeframe, if that makes sense. Stargirl is set to return this summer. Does that mean late May, or could it mean August? We aren't sure. The show is filming currently and as always it looks like they are having so much fun! We estimate that they are probably filming around episode 9 right now. So if the schedule holds, Stargirl could make an early summer debut! Regardless, we can't wait! Check out the teaser below:
Let us know your thoughts in the comments below and in the forum! Follow us on Twitter to get breaking news!
2/18/2021 10:50 am

Crisis on Infinite Earths did a lot for the Arrowverse. It consolidated Black Lightning, Supergirl and The Flash's worlds and let them all exist as one Earth, Earth Prime. The other thing it did was to show that other new worlds existed and one of those worlds was Stargirl's. We learned then that she exists on Earth 2, commonly the Earth used for the Justice Society of America. Fans of The Flash may remember that John Wesley Shipp, who played The Flash in the 90's series also played Jay Garrick on The CW's The Flash series from another Earth. Today, according to Entertainment Weekly, we are learning that the first Arrowverse/Stargirl crossover has been set for episode 9 of Stargirl season 2! John Wesley Shipp will reprise his role as the first Speedster Jay Garrick! According the EW:
Jay Garrick plays a role in a pivotal flashback episode that establishes the Golden Age Flash as a member of Earth-2's Justice Society of America. This miniature crossover will officially bring Stargirl [Brec Bassinger] into CW's post-Crisis Arrowverse alongside The Flash, Superman & Lois, Batwoman, Black Lightning, Supergirl, and DC's Legends of Tomorrow.
Stargirl will continue to exist on her own Earth-2 but the potential for future crossovers with Arrowverse shows now exists with this development! Very exciting!
Let us know your thoughts in the comments below and in the forum! Follow us on Twitter to get breaking news!