7/27/2021 11:44 am

Ok Stargirl fans, we are getting so close to August 10th, we can hardly wait for you to see the premiere of Stargirl! To help you hold over until August 10th, The CW has released a brand new extended trailer for the second season! This trailer is perfect in our minds as it shows the comedy, the family, the struggles and the darkness that is to come for Courtney Whitmore and the Justice Society of America. We get a great look at Shade and what his powers can do as The JSA show up at what looks to be his place and he dispatches the whole JSA pretty handily! This is a can't miss trailer that you should watch and re-watch all the way up to the premiere! Check it out below:
Let us know your thoughts in the comments below and in the forum! Follow us on Twitter to get breaking news!
7/26/2021 2:09 pm

Stargirl fans can you believe that we are only 14 days away from the season premiere of DC's Stargirl on The CW?! We are so excited for you all to see the premiere and if you want a taste of what's to come check out our spoiler free review of the premiere right here. But, also to get your ready for what Courtney Whitmore and the newly re-established JSA are going to face this season, we have a special video for you. We've partnered yet again with Zephy from his famous Comic-themed Tik Tok channel to bring you the origin of Eclipso. If Eclipso is anything close to what he is in the comics, The JSA is going to need everything they have and more to stop him!
Let us know your thoughts in the comments below and in the forum! Follow us on Twitter to get breaking news!
7/21/2021 6:00 pm

Less than 20 days until Stargirl makes her second season debut and just like Sophomore Courtney Whitmore, the sophomore season of Stargirl is raising the stakes from season 1. New and old villains are making their way to Blue Valley Nebraska where some will align in purpose and others remain in the ... shade! See what we did there! Looking ahead to the season premiere, the synopsis sets us up for the end of the school year. As we mentioned in our spoiler-free preview of the season, Courtney hasn't yet found the balance between being Stargirl and being Sophomore Courtney Whitmore. Pat is planning a big two-week vacation for the family so they can destress. Beth also discovers a secret about her family! Read the full synopsis below:
SCHOOL'S OUT — With summer break around the corner, Pat (Luke Wilson) suggests the family take a vacation after seeing that Courtney (Brec Bassinger) has been spending too much time focused on being Stargirl and not enough time on her schoolwork. Meanwhile, as Beth (Anjelika Washington) attempts to reconnect with Chuck, she stumbles upon a major secret her parents have been keeping from her. Elsewhere, Yolanda (Yvette Monreal) continues to be haunted by Brainwave's death, and Rick (Cameron Gellman) secretly tracks Solomon Grundy after suspecting he may still be in the area. Amy Smart, Trae Romano, Hunter Sansone and Meg DeLacy also star. Andi Armaganian directed the episode written by Geoff Johns (#201). Original airdate 8/10/2021.
Let us know your thoughts in the comments below and in the forum! Follow us on Twitter to get breaking news!
7/19/2021 5:00 am

Greetings Stargirl Fans! We are only 21 days away from season 2 of Stargirl and we couldn't be more excited! Today we have the very special privilege to share with you our spoiler-free review of Stargirl's second season debut! We are going to keep things as general as possible adding some specific details that shouldn't spoil anything for you. Additionally, we should note that some of these opinions were formed over watching the first six episodes of the season. No spoilers will be mentioned but if you want to go into season 2 without any heads up on the show, you should exit here, follow us on Twitter and circle back August 10th at 8pm on The CW!
Danger Level in Season 2
The first major difference this season vs. last season is the scale of the threat. Brec Bassinger herself noted on Stargirl Aftershow that this season feels more dark and with Eclipso and Shade being on the villain roster, we completely concur. As far as villains on DC-related television, Icicle and Brainwave made a much more severe point with their brutalness. But even with their severity, they were misguided do-gooders. They were doing bad things but thought it was for the greater good. That is NOT true this season! This time The JSA is going up against pure evil!
Timeline for The Whitmore-Dugan Family
If you remember in season 1, we left the Whitmore-Dugan family during the holiday season. Season 2 picks up at the conclusion of Courtney's sophomore year landing the Whitmore-Dugan family in Blue Valley for about 9 months so far. This season also takes on the "Summer School" subtitle and there is a very good reason for it! While Courtney has found her place as Stargirl, she hasn't mastered the balance between being Courtney Whitmore sophomore at Blue Valley High and Stargirl, superhero leader of the Justice Society of America. Because of that Courtney fails a couple of classes which forces her enrollment into summer classes.
The New Recruits
Ever since we reported that Ysa Penarejo would be playing Jade, there has been a growing excitement around a live action television Green Lantern! Jade took a center position in the season 2 trailer and even announced that she was the daughter of the Green Lantern! Fans may also remember that Alkoya Brunson was cast to play Jakeem Thunder and Jim Gaffigan will voice the pink genie Thunderbolt! While we will get to see these heroes in action don't expect them to be with Stargirl, Wildcat, Hourman and Dr. Midnite right away. There is a bigger story there!
Shade and Eclipso
Eclipso certainly stood out as the big bad this season with Nick Tarabay's poster all but cementing him as the final boss, but Shade did make an appearance in the finale of season 1 and his goals remain hidden. Just what exactly brings Shade back to the old ISA headquarters isn't known but he'll have a few run-ins with Courtney's JSA. Don't forget Cindy Burman is still out there as well! Those aren't the only villains that we'll see this season so keep an eye out for more!
The Original JSA
Stargirl opened with a massive battle between The JSA and The ISA where the JSA lost spectacularly! That said, not all was lost that night. Geoff Johns isn't done telling some of the original JSA stories and there are a few JSA members from the original team you can expect to see. We'll note that we broke the story on Ethan Embry playing the original Johnny Thunder, but he's not alone, and we aren't just talking about Joel McHale's Sylvester Pemberton.
Season 2 Official Synopsis
The CW drama series DC'S STARGIRL follows high school sophomore Courtney Whitmore (Brec Bassinger) and her stepfather Pat Dugan (Luke Wilson) as she leads an unlikely group of young heroes to take on the legacy of DC's very first superhero team, the Justice Society of America. In the thrilling second season, Courtney and her friends take on one of the most frightening adversaries in DC's mythology – the dark entity of corruption known as Eclipso.
Every episode of DC'S Stargirl will be available to stream on The CW App and CWTV.com the day after broadcast for free and without a subscription, log-in or authentication required.
Let us know your thoughts in the comments below and in the forum! Follow us on Twitter to get breaking news!
7/14/2021 10:26 am

We all know from season 1 that there would be no new JSA if it wasn't for Courtney Whitmore and her ability to find and encourage new team members into the new re-established Justice Society of America! In a brand new poster for the second season coming to The CW August 10th, it is pretty clear what Courtney's role is in the JSA, and that is front and center as the leader! But if you look a little deeper at this poster you can see something that might trouble comic fans, The team members in the JSA are all shaped into the black diamond that hold Eclipso!!! Could this be a foreshadow of what's to come this season? Check it out below: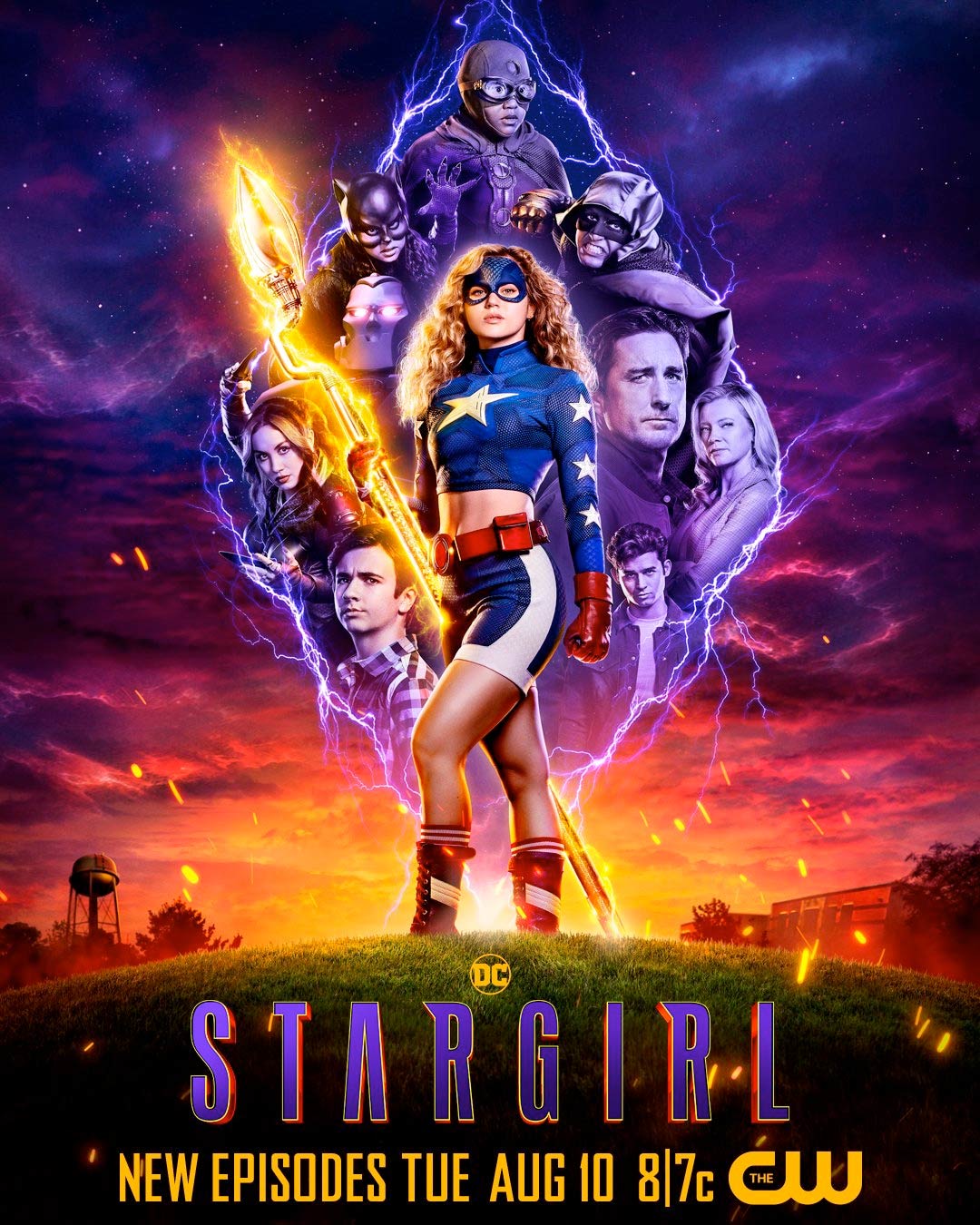 Let us know your thoughts in the comments below and in the forum! Follow us on Twitter to get breaking news!