11/2/2018 10:00 am

Stargirl continues to build their core cast as another series regular boards the show. Today, we are excited to share with all of you that Anjelika Washington has been cast to join the show as a yet unnamed DC Comics character. Washington was previously a series regular on the Amazon pilot The Legend of Master Legend, starring opposite John Hawkes. She also guest starred this year on Showtime's Shameless and CBS's Young Sheldon, as well as appearing in the Go90 web series Versus. Executive Producer Geoff Johns had this to say about casting Anjelika:
Anjelika Washington is a bright, funny and unbelievably talented actor and I'm thrilled to have her join the cast alongside Brec. We're withholding the character she's playing for now, but it'll be one familiar to DC Comics fans!
We're sure you can make a guess as to who she'll be playing as much as we can, but for now, the powers-that-be want to wait on letting us know who that will be. Regardless, the show is shaping up to be very exciting and the youthful cast will no doubt give us a unique perspective of DC Heroes for this day and age!
Let us know what you think of the casting news in the comments below and in the forum!
10/25/2018 10:24 am

Stargirl is still in its early stages of creation but even still, small tidbits of news are trickling out about the landmark show for DC Universe. As we reported earlier, the show is looking for more JSA legacy heroes to join and casting is underway for at least Wildcat and another JSA member. In addition, James Robinson, comic book writer of Starman, has joined the writers' room. Executive Producer Geoff Johns spoke briefly to Newsarama about the tone of the show:
It's about passing the torch and heroism for a new generation. Stargirl will be based on 'Stars and S.T.R.I.P.E', but will also encorporate new material.
The showrunner went on to announce that they are building a 15-foot tall S.T.R.I.P.E. robot for the show!
If you like the header image, check out the full illustration by visiting the artist "Devon Cady-Lee" here. Let us know your thoughts on these news tidbits in the comments below and in our forum!
10/15/2018 3:12 pm

So far we know that Courtney Whitmore, now played by Brec Bessinger, will headline Stargirl. In addition, the show needs a Yolanda Montez and a Pat Dugan. Well today we've stumbled across another JSA character and her role remains a mystery! We've updated our spoilers page to include two new test scenes for the character. For now she is named "Rachel", but we believe that this is a filler name much like Tammy is likely being used for Yolanda. Beyond who the character might be, the scenes help us really understand the humor that is going to be in this show! We've mentioned before that we feel like this is a good continuation of the feeling we got watching Supergirl's Midvale. In addtion, after reading the test scenes (which may or may not appear in the show), there is an element of Marvel's famous balance of humor and action! We are only getting more excited!
Let us know what you think of this new character and who she might be in the comments below and in our forum! Check our our spoilers page for more info!
10/8/2018 12:39 pm

Somewhat on the heels of the epic casting news that Brec Bassinger would take up the title role of Stargirl AKA, Courtney Whitmore, casting has commenced for the next new hero for the Justice Society of America, Wildcat. With New York Comic Con now over, the Executive Producers can get back to work on Stargirl which now has an August 2019 debut! No official description of the character has been revealed but our sources are pointing to the Yolanda Montez version of the character, though recent auditions have referred to the character's name as Tammy. For more information, including a new potential scene from the show, check out our spoilers page! Stargirl begins production in Atlanta, Georgia, January 2019.
Let us know what you think in the comments below and in our forum!
10/4/2018 11:36 am

DC Universe has released a new image that has the internet buzzing with excitement! The image in question (below) shows a release schedule for all the known original programing for the comic-based streaming service! Fans at New York Comic Con were treated to an advanced look at Titans yesterday along with surprise casting news for Doom Patrol (Matt Bomer joining as Negative Man). As NYCC continues, we're grabbing all the news that continues to pour out including this debut timeline.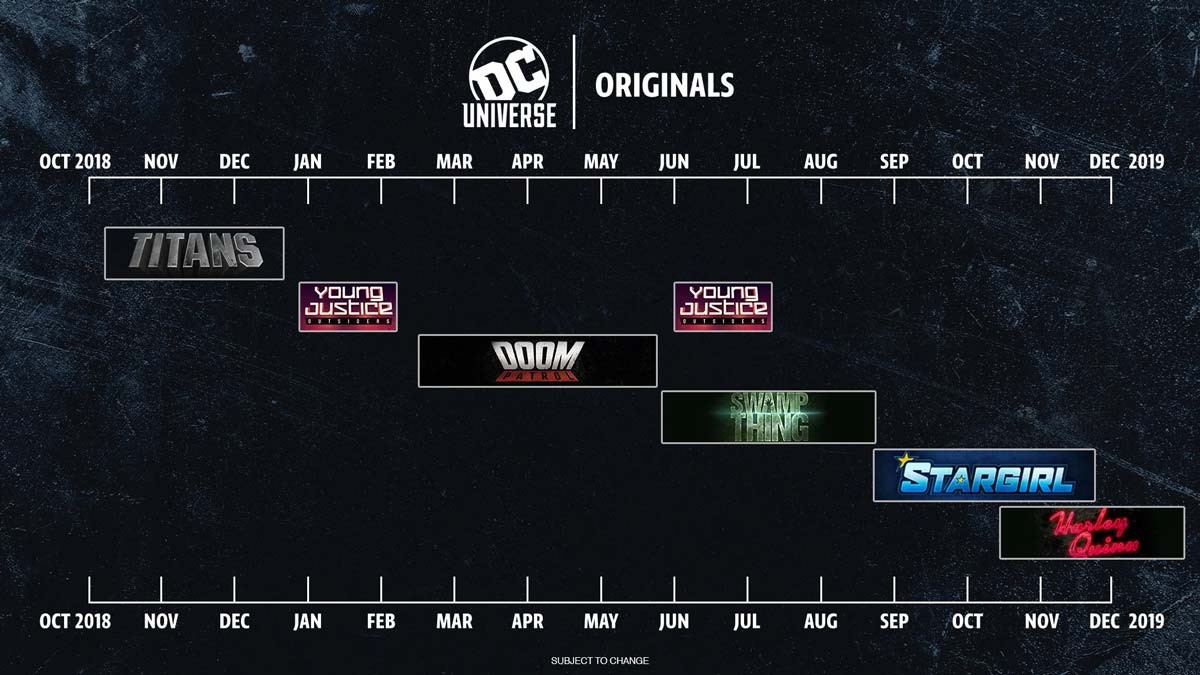 While no official start date has been set, we can put on our speculation hats for a moment and do a little math. DC Universe debuts original programing on Fridays. That could mean, according to the image above, Stargirl may debut on August 23rd. Also, and take this with a grain of salt, judging by the length of the image and assuming that there will be a new episode every Friday, that means season 1 could be 18 - 19 episodes long! That sounds pretty incredible to us! On the heels of Titans getting an early season 2 renewal, the DC Universe streaming service looks to be off to a bright start!
Let us know what you think of the start date and the estimated length of the season in the comments below and in the forum!