1/14/2020 12:14 pm
Tonight was the thrilling conclusion to the five-episode crossover with characters from shows across mulitple networks and multiple dimensions! As the Multi-verse was recreated in a new way, fans got their first in-Arrowverse look at our Courtney Whitmore. It was just a short shot from the now brand new Earth-2, which is quite fitting considering how in the comics, The JSA was traditionally from Earth-2. Crisis on Infinite Earths certainly did a lot of great things and fan service was at the forefront! Even just the small bite we got of Stargirl has us delighted and looking for more!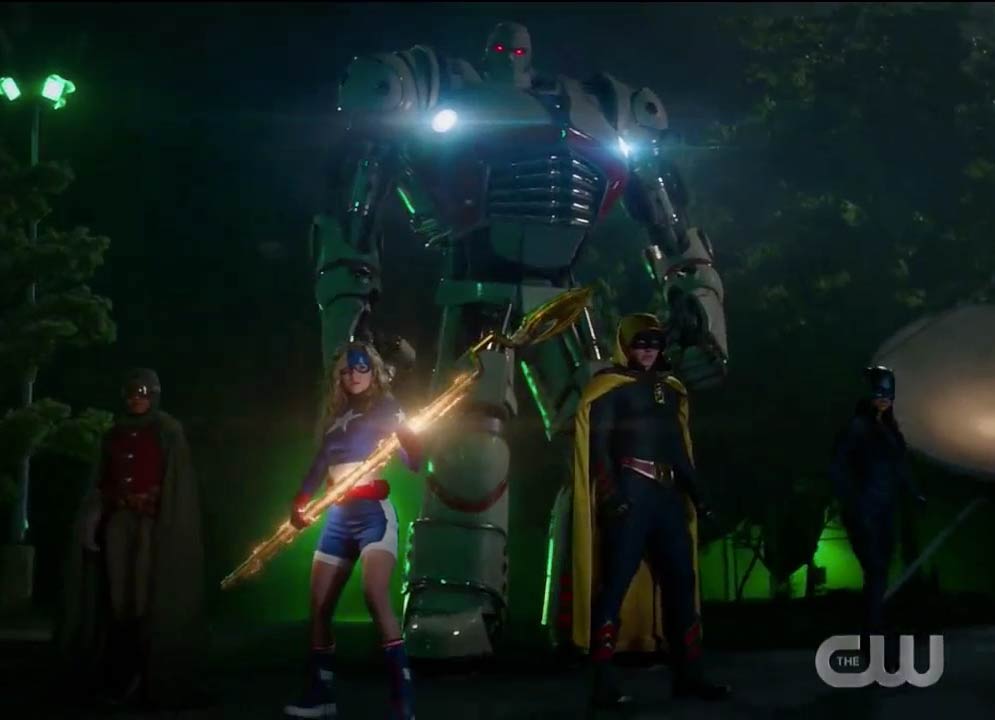 If that wasn't enough, we got a whole new trailer to go with! The trailer is called the "Destiny" trailer and you can check it out below:
Did you catch Stargirl in the end of Crisis on Infinite Earths? Let us know what you thought in the comments below and in the forum! Don't forget to follow us on Twitter!
12/31/2019 2:05 pm

Happy New Year everyone! Today, as we march into a new year and new decade, we are sitting in the middle of the biggest comic book television crossover event in history. Seven heroes and one major villain are all that are left from reality. Fans are patiently waiting for January 14th to find out how all of this is going to conclude. One thing is clear though, the heroes have to prevail in some way because The Arrowverse will continue with new episodes. Will they all exist on the same Earth? Will there be other Earths restored? Tune in January 14th to find out.
If a major crossover event like Crisis on Infinite Earths wasn't clue enough that we are in a major golden age of comics television, we are looking to Stargirl as another example of how comic book-based television is at its height! Recently, HBO's Watchmen was heralded as an amazing example of must-see television. These shows that don't have to conform to traditional broadcast television rules seem to find stories and quality that really shines. Doom Patrol was wild and very niche but still held comic book fans and non-comic book fans alike. The commonality of these shows, though, is that they must be a part of a subscription service. They get their revenue not from advertisements but from subscriptions. This is where we look to Stargirl.
For the first time ever, The CW is going to have a show that was created via the subscription model and offered freely via broadcast and streaming (via the CW app). This could be a game changer. The quality and precision storytelling of Stargirl is movie level quality. This will be the first time a show like this will be offered by a major television network. More audiences than ever will be able to access this show. With Stargirl's success, a new television production model could be created; shows that have the high quality and caliber/budget like Stargirl that are offered freely and via subscription. Stargirl will be the first show that will benefit from television advertisements and subscription services to fulfill their budgets.
No matter if this new production model is adopted in the future for other shows or not, there is a clear light moving forward. Stargirl via The CW will be the first time people with just a digital television antenna can see a subscription quality TV show. The future looks bright for Stargirl and for comic book-based television!
Let us know what you think in the comments below and in our forum! Don't forget to follow us on Twitter!
12/10/2019 10:06 am

NOW THIS IS WHAT WE'VE BEEN WAITING FOR! Finally, a proper first look at the amazing action, drama and quality of Stargirl! This looks unlike anything we've ever seen on the CW. It feels like an HBO style show! Courtney Whitmore is going to have her work cut out for her becoming the hero the cosmic staff knows her to be! Already we can see the chemistry between Luke Wilson's Pat Dugan and Brec Bassinger's Courtney. But as they say, a picture is worth a thousand words, so check out the trailer for yourself in the video below:
Let us know what you guys think of the show now that we've seen a proper trailer! Join fellow fans and discuss Stargirl in our forum as well! Don't forget to follow us on Twitter!
12/7/2019 1:35 pm

The promotional engine for Stargirl is starting to rev up and we couldn't be more excited! Stargirl's first teaser is finally here! This looks like it was created by an additional advertising company because the actual footage from the show doesn't start until the very end. We do get to see Yvette Monreal, Cameron Gellman, and Anjelika Washington in character though! Not in costume unfortunately! Either way, check out the teaser below! Crisis on Infinite Earths is right around the corner and Spring can't get here fast enough!
Let us know what you think in the comments below and in the forum! Make sure you follow us on Twitter for all the breaking news!
11/22/2019 12:26 pm

Yesterday the news broke that Stargirl herself, Brec Bassinger would make an appearance on The CW's mega crossover event, "Crisis on Infinite Earths". In addition, other news outlets picked up the news that the show would concurrently be broadcast on The CW along with the commercial-free streaming app DC Universe! This has been a momentum shifting week for the once delayed show. Now two networks are sharing the show and an even broader audience can enjoy the adventures of Courtney Whitmore and the new JSA!
We have long said that the cast and crew of Stargirl are among the closest and most talented in the industry. You can see on their social media accounts that they all support each other even outside of the show and seem to be genuine friends in real life. We know that kind of bond is only going to come across as something spectacular on screen! After the news broke yesterday the cast took to social media to share their reactions! Below are just a few of the many celebrations:
We think our lead, Brec Bassinger said it best, "The CW stands for Courtney Whitmore!". In addition, we did get a tiny news element from Anjelika Washington. She has completed her Additional Dialogue Recording (ADR) for the show. That means the show is nearly complete with all the additional sounds needed for the full thirteen episodes. We imagine all that is left is some special effects work!
Let us know what you think of this awesome week for Stargirl in the comments below and in the forum! Don't forget to follow us on Twitter too!