5/3/2021 11:55 am

A couple of months before the season 2 debut of Stargirl, The CW has already found the show to be a huge benefit to the network. As we reported earlier, sources close to the show told Stargirl.tv that a season 3 was all but announced. Today, The CW has made their choice known publicly. In a press release from the network, Mark Pedowitz, Chairman and Chief Executive Officer of The CW Network had this to say about the two renewals.
We are beyond proud to continue to share the stories of Nicky Shen and Courtney Whitmore, two strong, powerful young women at the center of this new generation of hit shows for The CW in KUNG FU and DC'S STARGIRL. While each boasts remarkable talent on both sides of the camera, KUNG FU and DC'S STARGIRL have not only treated fans to some visually stunning action and high-flying heroics, but they also both strike very powerful emotional chords as they delve into the family dynamics and personal relationships at their core, and we are so excited to see what happens next.
So pick up your staff, and put on your goggles, we get to enjoy a whole new season coming in two months and a third next season! This truly is the golden age of comic book television!
Let us know your thoughts in the comments below and in the forum! Follow us on Twitter to get breaking news!
4/29/2021 1:21 pm

Here we go guys! We finally have a start date for Stargirl's second season now exclusively on The CW! That date is August 10th! That is a Tuesday and notably, Stargirl will take the 8pm time slot! Initially Stargirl will be trailed by Superman and Lois, and when Superman and Lois finishes, Stargirl will be trailed by Supergirl's final season. The fact that the network has decided to place Stargirl in the 8pm slot is a VERY positive sign for the show. Superman and Lois is breaking records on the CW and yet they still think that Stargirl will bring in more audience giving the show the lead in spot! This bodes very well for the future of the series and now we've got to update the countdown clock!
Let us know your thoughts in the comments below and in the forum! Follow us on Twitter to get breaking news!
4/27/2021 10:08 am

Greetings Stargirl Fans! As the show finishes production on it's second season, basically pulling off the impossible (filming brand new content in the middle of a pandemic), there has been speculation on Stargirl's future and possible third season. Last week, CBR ran a story about how Stargirl was "On the bubble" for another season. "The Bubble" is a term given to shows that have uncertain futures where the network is considering them for cancellation. For Stargirl, this isn't the case. As it stands now, the second season hasn't even aired yet. While some DC Shows were given renewals already, these were early renewals. Stargirl is moving along naturally in the course of its production and creation, all signs are pointing to a positive third season.
Sources close to the show have told Stargirl.tv that there are already plans for season three and renewal is looking to be very likely. When Stargirl debuted on The CW, it welcomed 1.2 million viewers. Remember at the time the show was also running on the DC Universe platform so viewership was even more than reported. With an 89% positive critics rating and being certified "Fresh" on Rotten Tomatoes, the show performs better than many of the other DC-based television shows. The Critic Consensus even states:
A stellar series perfect for anyone looking for a little hope, Stargirl is delightful fun the whole family can enjoy.
As it stands now, the show is in a perfectly natural development cycle wrapping production on season two. Fans will be delighted to watch Stargirl this Summer on The CW and we have no doubt there will be more seasons to come!
Let us know your thoughts in the comments below and in the forum! Follow us on Twitter to get breaking news!
4/4/2021 10:58 am
Happy Holiday for those that celebrate, today there is another cause for celebration. In the middle of a pandemic, where television productions were haulted with no warning, processes and regulations were formed and put into place, and slowly new filming could begin, the incredible happened. Stargirl was able to film a whole new season! Just take a moment and think about how incredibly triumphant that is. Of the hundreds if not one thousand people who have to work together to work, talk, touch and train to make this show happen, no one worked outside the guidelines, no one was infected, everyone was safe, and the benefit to us, even as the pandemic sees a conclusion, we still get a whole new season of our favorite superhero!
WOW
What an incredible accomplishment that all involved should be proud of! Our thanks to the cast and crew who worked tirelessly in a very uncertain time, with potential dangers around every corner. Our very own Stargirl herself took to social media to share the wrap: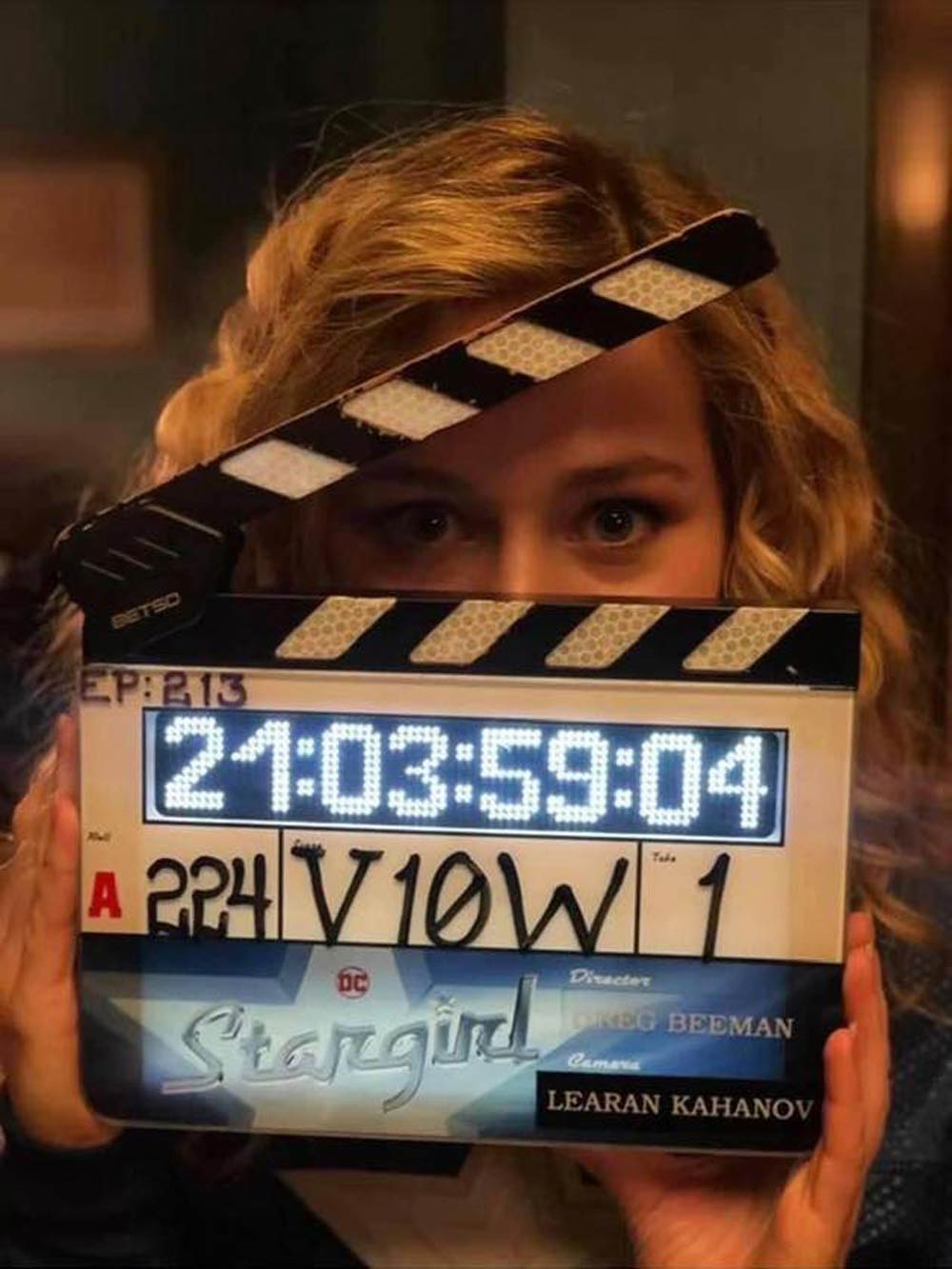 There is some photography left to take place, but with Brec finishing her work on the second season, and Hunter Sansone already being wrapped in March, the end is very near and we couldn't be more excited and proud of the great work that was accomplished.
Let us know your thoughts in the comments below and in the forum! Follow us on Twitter to get breaking news!
3/30/2021 10:00 am

STARGIRL FANS! Imagine our surprise when we logged in this morning to see that there was a secret set of new images from season 2 of Stargirl just released! Now here's a bit of interesting news. First, we all know that Stargirl's second season will start this summer, but in a newly released "Spring" sizzle reel on The CW's You Tube page, some new Stargirl content was released. There were really only four scenes and each scene was only a few frames. Because of this, we went through the video and took screenshots of the scenes because to present it as a video would only add a frame or two, that's how short the scenes were.
That said, the four images are so definitively Stargirl. You have Courtney smiling and in her costume as always, a scene with the Dugan Whitmore family seemingly sitting in front of the principal's office trying not to role their eyes, a shot of Pat seemingly with the weight of the world on his shoulders yet again, and finally a kind of Ferris Bueller's Day Off scene with Courtney and her staff, check them out below:
Let us know your thoughts in the comments below and in the forum! Follow us on Twitter to get breaking news!