5/21/2020 9:46 am

Stargirl is here and the show's debut has been a smashing success! Freshly rated on Rotten Tomatoes, great numbers in viewership and just about everyone is commenting on the quality of the special effects! The show really does look like a movie. A new poster for the show has just dropped as well. At this point, after only one episode, the focus is certainly on Courtney and STRIPE. Courtney doesn't even have her super suit yet. The new poster however, features a great look at both Courtney's Stargirl costume and the magnificent real life model of STRIPE! The poster hits like a warm piece of apple pie. It has a real middle town America feel to it! Check it out for yourself below!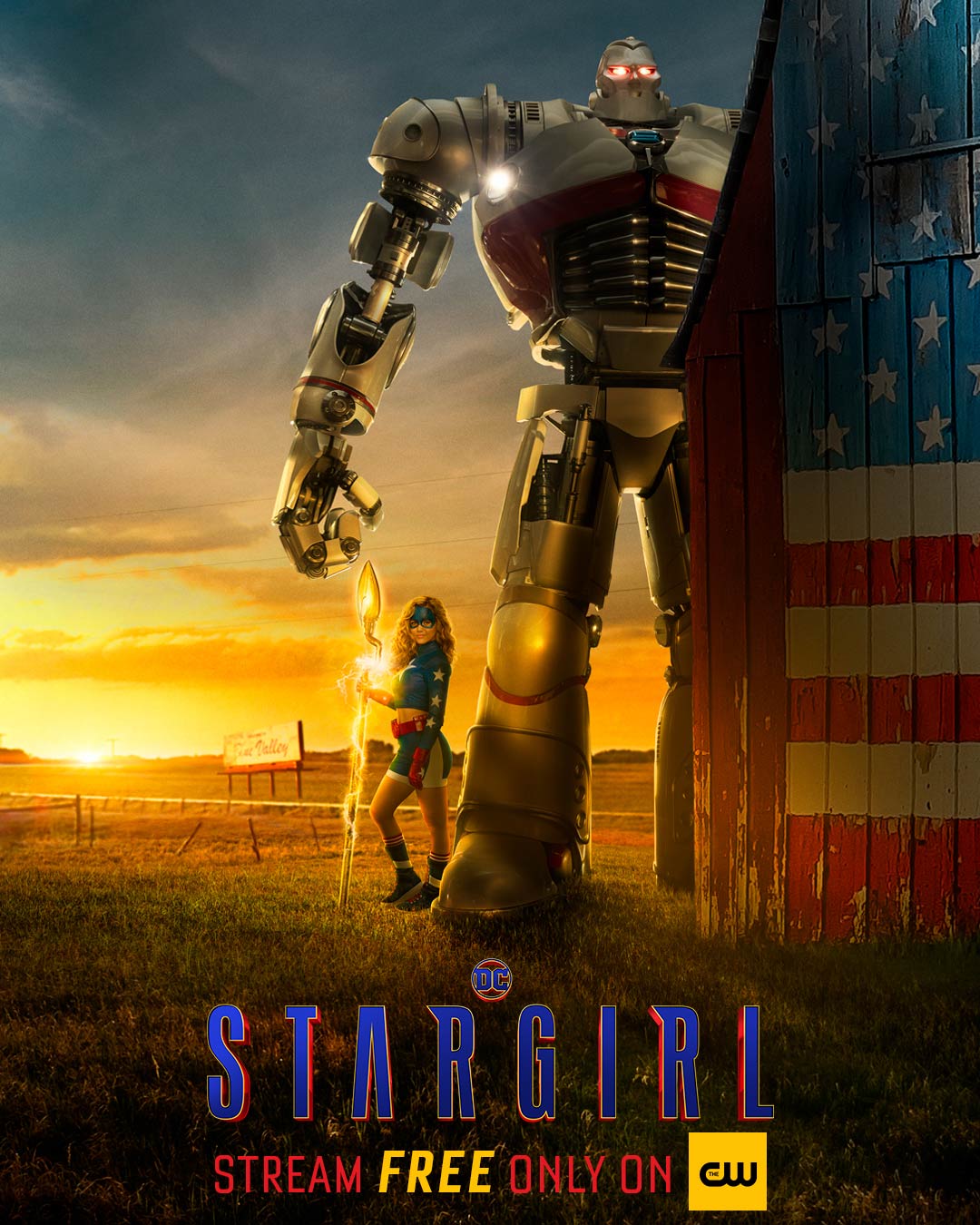 Let us know what you think in the comments below and in the forum! Follow us on Twitter to get breaking news!
5/20/2020 9:56 am

If you woke up this morning still smiling from how great Stargirl was last night then you aren't alone! Tons of folks have just found the whole-hearted new series on DC Universe and The CW and the reviews are a smashing success! Already looking forward to next week, we have a short preview we can share that gives a little more footage from the series' second episode. But first, Joel McHale (aka Starman) held a brief 5 minute chat with the Dugan family without Mike. Brec Bassinger (Stargirl), Luke Wilson (Pat Dugan) and May Smart (Barbara Whitmore) all shared stories from the set with Joel in a very fun Quarantine chat! Don't forget to wish Brec Bassinger a happy 21st birthday!
Preview for next week's all new episode below:
Let us know what you think in the comments below and in the forum! Follow us on Twitter to get breaking news!
5/17/2020 11:39 am

It's been almost over a year and a half since Stargirl was officially announced at San Diego Comic Con 2018 and our site was born! Since then we've written over one-hundred articles that have included news, spoilers, sneak peeks, behind the scenes images, theories and even advanced reviews. None of that lives up to this, being able to finally write this article where we can finally share with you the Stargirl experience! Because this show lives on two networks, we are going to post our episode recaps on the DC Universe schedule, but we will live tweet during The CW viewing. There was a lot to cover in the first episode, here's what stood out to us:
The Demise of The Justice Society of America: We open on the Golden Age of superheroes ten years ago. Pat Dugan is driving his classic car heading to the JSA headquarters where the Injustice Society is basically killing all the members of the Justice Society! Wildcat is the first to fall being blow out of the building through the roof. Hourman is next being hit from behind by the Wizard. Dr. Midnite falls next when Starman shows up. He is attacked by Brainwave but Starman uses the staff to get the upper hand. Icicle then makes his attack stabbing Starman through the gut. Pat is able to get Starman in his car and escape. Starman dies in Pat's arms after swearing he will find a way to make the JSA live again! Talk about an incredible opening scene!!
Young Courtney: The night Starman dies, a young Courtney is seen waiting to see her father. She has a gift for him but on Christmas eve her dad doesn't show. Barbara has to work a shift and Courtney stays with a family friend. We fast forward to current day Courtney packing up her room. She is moving with her mom and the Dugans to Blue Valley Nebraska. It's clear Courtney doesn't want to move and her relationship with Pat is a bit rocky. When they get to Nebraska, the moving folks are unpacking and the cosmic staff nearly falls out. Courtney gets suspicious. The night of the move-in, Pat heads to the basement to check on all his JSA stuff.We discover that Pat has been tracking the Injustice Society for yearrs but loses the trail in Blue Valley.
Blue Valley High: Pat takes Courtney to school. It's clear Pat wants to have a good relationship with Courtney. He's trying to reach out to her but she's not that interested. Courtney enters the school clearly lost. She asks to join the gymnastics team but it's been disbanded. Cutting to Pat, we see where he sets up his mechanic shop. He is met with a local gym owner, Larry "Crusher" Crock who's interested in getting Pat signed up at the gym. Barbara starts her new job at "The American Dream", a company that invests back into Blue Valley. For the first time, Barbara gets an office. Back at school, Cindy shows up to welcome Courtney. Somehow Cindy already knows who Courtney is, has her number and asks her to join cheerleading. Courtney heads to lunch where she meets Beth Chapel. She explains that the table she's at is "The Singles" table, or the losers. When Henry King Jr. shows up to taunt Yolanda, he takes a swipe at Courtney's phone, she pushes him into the lunch lady where he get's spaghetti all over him. Courtney gets detention and Cindy calls her a Bitch for hitting her boyfriend.
Courtney Finds the Staff: Courtney frustrated with the situation and is just looking to get away, heads to the basement. She kicks a box and breaks a picture frame of Pat holding up fish. She opens the frame and discovers a photo of the JSA! Pat's friends that he found "later in life" were the JSA! He was a superhero! Sorting through the JSA files, the staff calls out to Courtney. She opens the crate it's in and the staff quickly powers up! The staff kind of has a personality of its own. To teach Courtney how to use the staff, the staff drags Courtney outside and with her gymnastics training she is able to ride it and fly with it! Pat, taking the broken microwave down to the garage notices that Courtney found the staff. The staff takes Courtney to a drive-in where kids are hanging out. She sees Henry King Jr. bullying kids. Courtney has the idea of letting the air out of his car's tires. Using the staff the air is let out but she ends up getting caught. The bullies start to attack Courtney but with the staff she is quickly able to beat them up. She ends up using the staff and blows up their car. The staff laughs at this and she makes her escape!
Pat and Courtney: Pat catches Courtney trying to return the staff. Pat comes clean with Courtney about who he is and the life he had before meeting Barbara. We learn the JSA died ten years ago saving the world on Christmas eve. Pat is terrified that Courtney knows now. Getting close to the JSA in any way puts you at risk. Courtney starts to think Starman was her father because the staff only works for Starman and now her. Courtney shares that her dad's name was Sam Curtis but she's never been able to find anything about him. She goes to ask Barbara about her dad. Ready to blow the secret on Pat, Courtney hears how her mom speaks of Pat. She decides not to tell.
Brainwave: Henry King Jr. speaks to his dad about the car blowing up. Henry King Sr. is only interested in the description of the staff. Not seeing Starman actually die, they are worried he could be back. Using his powers, Brainwave unlocks a secret room where he keeps his supersuit. Courtney and Pat have a moment on the porch. Pat explains what an honor it was to be a sidekick for the JSA. Courtney tells Pat that she doesn't like that her mom doesn't know this. She says she'll keep his secret if he stays out of her way. Pat re-enforces that it is imperative to keep the secret so people will remain safe. Brainwave calls Jordan to get advice on the new staff wielder. He is advised not to do anything until Jordan gets back.The staff breaks out of its crate looking for Courtney. Kind of like a puppy, it wants to play. The Staff hasn't had a wielder in ten years and is too excited to get out again. This ends up being poor timing though as Brainwave, against Jordan's orders, is out investigating. He can read your mind, and he can move you or anything else just with his mind. He finds Courtney practicing and begins to interrogate her. Brainwave reads her mind but the Staff finally kicks in and Courtney is able to escape. She is met with STRIPE, Pat's answer to fight the ISA! He tells her that she wasn't supposed to touch the staff!
And just like that! Episode one concludes! We are now on a brand new adventure and if this first episode is any indication, we are on one wild ride! We can't wait to hear your thoughts on the new Stargirl! Let us know what you think in the comments below and in the forum! Follow us on Twitter to get breaking news!
5/17/2020 11:30 am

We are less than a day away from the debut of Stargirl and we couldn't be more excited to see your reactions and feelings on this groundbreaking new show! The CW has released a short featurette that shares behind the scenes shots, cast interviews, and new action scenes that we haven't seen before! In the video, we see how this show is going to cover family issues, high school issues and superhero issues. There is a big emphasis on how big STRIPE is as well. In a very short scene we can see Courtney standing in front of STRIPE and he's huge! Luke Wilson even goes on to say the robot is 17 feet tall! Check out the featurette video below:
Let us know your thoughts in the comments below and in the forum! Follow us on Twitter to get breaking news!
5/13/2020 12:39 pm

We are so excited for the debut of Stargirl and we've been loving all of the trailers that have led up to this launch. One thing that fans haven't seen, however, is a straight sneek peak of the show. This is an uncut clip from the show that isn't put into "trailer mode" but just plays as it would when the episode airs. That changed today becuase the first sneak peek at Stargirl was released. The scene is the Dugan's and the Whitmore's arriving to their new home in Nebraska. Courtney clearly doesn't look happy to be there but her new step brother Mike thinks the house is a mansion! Pat on the other hand is quite nervous about something the movers are taking into the hosue. Check out the sneak peek for yourself below:
Let us know your thoughts in the comments below and in the forum! Follow us on Twitter to get breaking news!