10/19/2021 6:00 pm

We may have gotten out of the Shadowlands, notice the color of our site has returned (if that isn't true for you, you might need to clear your cache, most browsers can be done holding shift and clicking refresh), but Courtney started the episode in a very unfamiliar place. She was joined by Alex Collins, Dr. Midnite (check out our interview with him here), and the missing since episode 6, Meg DeLacy's Cindy Burman. Back in our world, members of the JSA worked on trying to figure out how they could get Courtney back! Jenny is still in Blue Valley and Beth's carrying the team with her goggles being the only source of truth! A lot happened tonight as we march toward the season finale, here's what stood out to us:
Not Everyone Made it Home: Pat arrives back at home without Courtney. He has to tell Barbara that Courtney has been lost in the Shadowlands. Now, in black and white, Courtney awakes in a twisted version of Blue Valley. Courtney walks into the diner and meets the Zarricks. They didn't recognize her but they all died in season 1. When Joey messes up the pick-a-card trick again, the Zarricks seem to turn on Courtney. She runs from the diner and is back at school again. At school, Courtney runs into the Bowins, both who died. Cindy finds Courtney at the school and they begin a battle in the halls. Cindy stops when she sees Courtney bleed. People don't bleed in the Shadowland. Then The Dragon King shows up. It seems like people that aren't dead have to relive and or interact with those that died.
Courtney and Cindy: Back in Courtney's room, Cindy asks how did Courtney get to the Shadowlands. Cindy learned all about the Shadowlands when she was on the hidden island. The Shadowlands act like pergatory, showing you things, tormenting you. Cindy has resigned herself to this place but Courtney continues to look for a way out. The next room Courtney faces is one where her mother resents her. Cindy pulls her out of it before it goes to far. Courtney and Cindy go back and forth with the blame game. Cindy challenges Eclipso in the Shadowlands and it manifests Cindy's real mom. Cindy is pulled into the darkness and Courtney runs after her.
Dr. Midnite: Wandering the darkness, Dr. Midnite finds Courtney. Dr. Midnite sees nothing but the scary darkness. As long as he has the goggles on, the vision can't get to him and that is how he's survived. He can't be tormented. He offers his goggles for Courtney to prove who he is but asks for them back quickly. He gives some advice on how to survive the Shadowlands. We cut to Beth who's in Courtney's room. Her goggles are filled with tears but she is afraid to take them off. Dr. Midnite gets through to Beth and they find out Courtney is alive, and with Dr. McNider. Jenny's ring can help them find The Shade and they believe The Shade can pull them from the Shadowlands.
Rescue Plan: Jenny prepares to find The Shade. Her ring manifests a map of Blue Valley. The Shade seems to be in two places at once. Dr. McNider speaks on how he survived so long in the Shadowland and shares his hope for getting out with The Shade's help. The Shade once came to Dr. Midnite after the death of his daughter to apologize for not dealing with Eclipso beforehand. Beth and Jenny head to one location and Barbara and Pat check out the other. One place must have The Shade. Pat and Barbara find The Shade in a movie theater. He can't heal as he once did. Pat and Barbara demand The Shade help get Courtney back. A heart felt plea from Barbara gets the Shade to assist. Courtney and Dr. Midnite would be free but Courtney won't leave without Cindy. She goes to find her and is separated from Dr. Midnite and finds young Bruce Gordon instead.
Cindy's Suffering: Cindy is reliving her parents treatment while young Bruce shows Courtney all the lives she's ruined. Courtney is taken on a tour of all that Eclipso has done to her. Normally Eclipso can't get to Courtney with the staff, but he has her in the Shadowland. Young Bruce bets Courtney isn't revealing that she hates him.
In the final wrap up moments, Courtney and Dr. Midnite are able to find Cindy. Courtney can't be affected by the visions if she ignores them. She grabs Dr. Midnite, Cindy and they head for The Shade's exit. All three make it out just as The Shade collapses from exhaustion. The Shade had no idea Dr. Midnite was in there. The Shade asks that they speak of him well in his death and he fades into the darkness. We aren't sure if he's really dead. Check out the trailer for next week's all new episode below:
Let us know your thoughts in the comments below and in the forum! Follow us on Twitter to get breaking news!
10/14/2021 6:06 pm

Here it is, the final episode of Stargirl season 2! Just as our interviewee said in our article this morning, the slow burn is over and we are now at a full on blaze! We've also said it several times before, when the synopsis gives you very very little, its probably because the episode is going to contain a lot of action, huge plot conclusions, and offer up more questions to be solved in season 3! The only thing that we can really gather from the synopsis is that the members of the JSA are all back together and are ready to take Eclipso on all at once! This must include Jakeem, Jenny, and the core members. Maybe even Legacy members like Starman and Dr. Midnite!? Check it out below:
SEASON FINALE — As Eclipso (Nick Tarabay) unleashes the final part of his master plan, Courtney (Brec Bassinger), Pat (Luke Wilson) and the JSA band together to take him down once and for all. Yvette Monreal, Cameron Gellman, Anjelika Washington, Amy Smart, Trae Romano and Hunter Sansone also star. Greg Beeman directed the episode written by Geoff Johns (#213). Original airdate 11/2/2021.
Let us know your thoughts in the comments below and in the forum! Follow us on Twitter to get breaking news!
10/14/2021 10:03 am

After Tuesday night's episode, the JSA has lost their leader! Stargirl has been thrown into the Shadowlands by Eclipso and with Courtney gone, the staff inoperable, the remaining JSA members are quite vulnerable to whatever Eclipso has planned. Today, we took a deep dive into the shadowlands ourselves (notice the black and white [clear cache if you don't see]) to catch up with the one ally Courtney might find there, Dr. McNider himself aka Alex Collins. Ever since season 2 began Alex took over the role of Dr. McNider from goggle voice over, to in person acting! Our sincerest thanks to Alex who did double duty for us, allowing us to interview him twice when our recording software failed!
Stargirl.tv: Tuesday night Beth finally made contact with Charles McNider and that connection was long enough to unlock the Eclipso files. Can you tease any more about Dr. Midnite coming up? Is Charles coming back?
I think everything has been leading up to next week's episode.

The whole season, there has been this really nice slow burn. You know, when you go camping, the fire isn't roaring right off the bat. A little bit of wood, a little bit of kindling on it, and you have to blow on it. And you have to protect it from the wind and make sure it doesn't go out. That's kind of what this season has been. They focused one episode on one character, one episode on another character, and so on. The story has slowly unfurled. I think episode nine with the flashback last week with Eclipso really kind of stepping up his game and Shade revealing some of his plots, I think it all leads to next week. We honestly feel like it's built to the point that next week could be the season finale.

We still got more. But I think what's really going to happen is it's going to build to this sort of crescendo next week that then will lead into the back part of the season, which will answer a lot of things for the audience and tie up some loose ends. But then as all good shows do, we'll also pose more questions.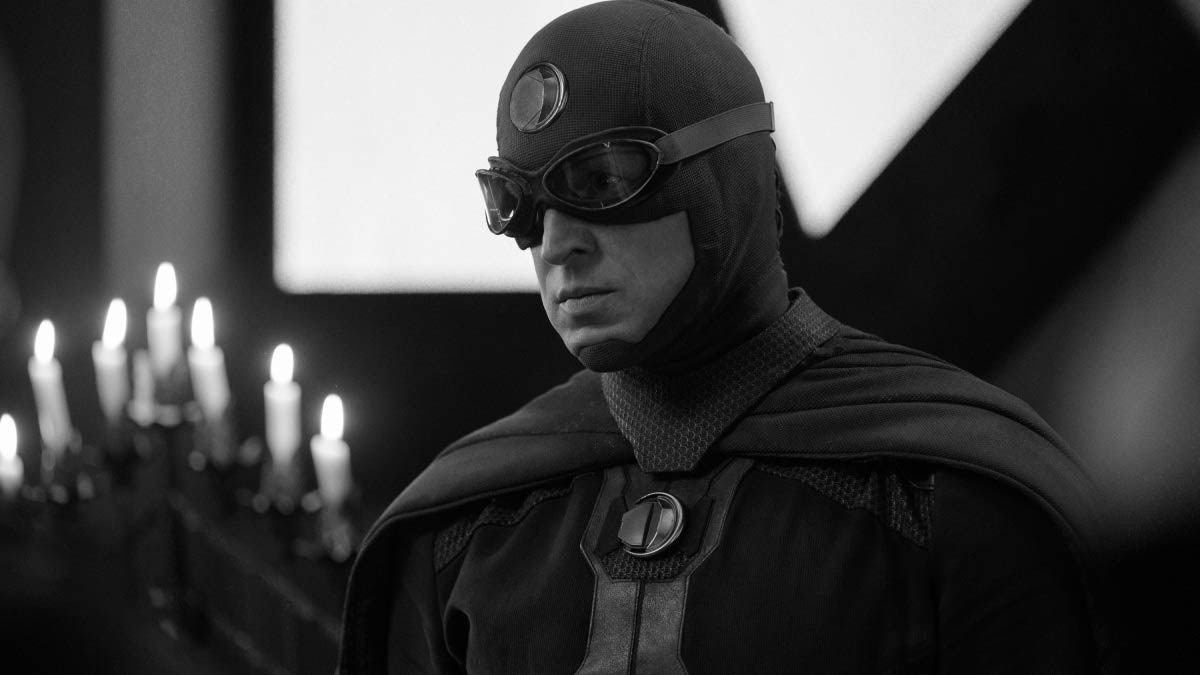 Stargirl.tv: How did this opportunity come to you?
So I'm based in Atlanta, the show shoots in Atlanta, and I actually, you know, through my agent, through my reps, I've auditioned for the show a few times. I actually, over the course of the first season had an opportunity to audition a couple of times. Things just didn't work out for whatever reason. Then I had also auditioned before season two, for one of the roles in season two and for whatever reason that didn't come about. But all of that is not a negative, it's a positive. All of that just got an opportunity to see my work in a number of different ways, inhabiting a number of different characters. Then they were able to find the right place for me. I'm really grateful that they did and I love playing Doctor MidNite. Obviously, everybody knows Henry Thomas in the pilot and he did a wonderful job. And you know, I've been a fan of his since the early days, ET and Gangs of New York and Haunting of Hill House and his entire body of work. You know, it happens quite often in television that sometimes schedules change or availability changes, and I don't know what the details are surrounding his departure. But for me, I win because I get to put on the cape. And I get to put on the boots. And I get to pick up the story where he where he left off and hopefully I do justice to his version, but also to the different versions in the comic books over so many decades.
Stargirl.tv: As an actor, are there different challenges taking on a role already played by another actor?
Not really, right? As an actor, you need to do your due diligence and pay homage to the source material. But you also need to make it your own. So whether someone else has played this or not, it doesn't really matter. A lot of different people have played Superman or Spider Man, many, many decades of those characters. But your job as an actor is to bring your own approach to it, your own spin to it. But I also wanted to make sure that it was as seamless of a transition for the audience as possible. And I think, Geoff [Johns] and the production team did a really nice job of that because as you well know, the first several episodes of the season, that's trying to make contact or myself trying to make contact with Beth. So it's from a voiceover point of view, it's from Chuck's point of view. And so the audience isn't jarred into this "wait a second, it's not the same person", the transition is a seamless one. Then when you finally do see me, in person, for real, it's in the flashback episode. And Geoff throws another curveball, or, you know, the writers throw another curveball by going, "Oh, look, there's The Flash, let's go look at The Flash". And so all of the attention goes on the amazing John Wesley Shipp for that scene. He's a great distraction. He's a legend. And so that really helped, it was very much that ensemble team led by The Flash. That kind of again deflects and starts to tell other stories. Which brings us to this week's and next week's episode where the layers are really going to start to be peeled back.
Stargirl.tv: Speaking of transitions, I didn't even notice the voice changed until much later. Talk about seamless. And we were so excited about The Flash on the show, it was definitely a stroke of genius.
Yeah, I think that's the beauty of the show is nothing is by accident. And things that you think are just tiny little details in one episode, four or five episodes later, they come back and you go, "Oh, that's what that was". That's the wonderful thing about a comic book story is you're constantly going back and thinking about something that happened a long time ago, and how it relates to something now.
Stargirl.tv: In a press release you spoke about how welcoming the environment was on set, can you speak more about what it was like joining the Stargirl team?
I have so much fun. Honestly, I've been on different sets over the years, you know, big massive studio films, lovely network TV, cable, HBO, all of those sorts of things. And this is the warmest, most loving, most familial set I've ever worked on. And I think that attitude and behavior starts at the top, right? So Geoff sets the tone, he was warm and welcoming. And that followed-through to Brec and Amy and Luke, Angelika and everyone else, and the crew as well. It's the sort of thing where people hang out socially after work. People celebrate each other's birthdays. I think I told this story in another interview. Amy had her birthday one night when we were shooting on location. And we sang her Happy Birthday at about three in the morning. And then every single time she was in a scene we sang Happy Birthday. We ended up singing Happy Birthday about eight or nine times for Amy and she was a trouper and loved it and was very gracious. Sometimes when everybody's tired and you get a little stir crazy, you kind of have to dance around and have fun.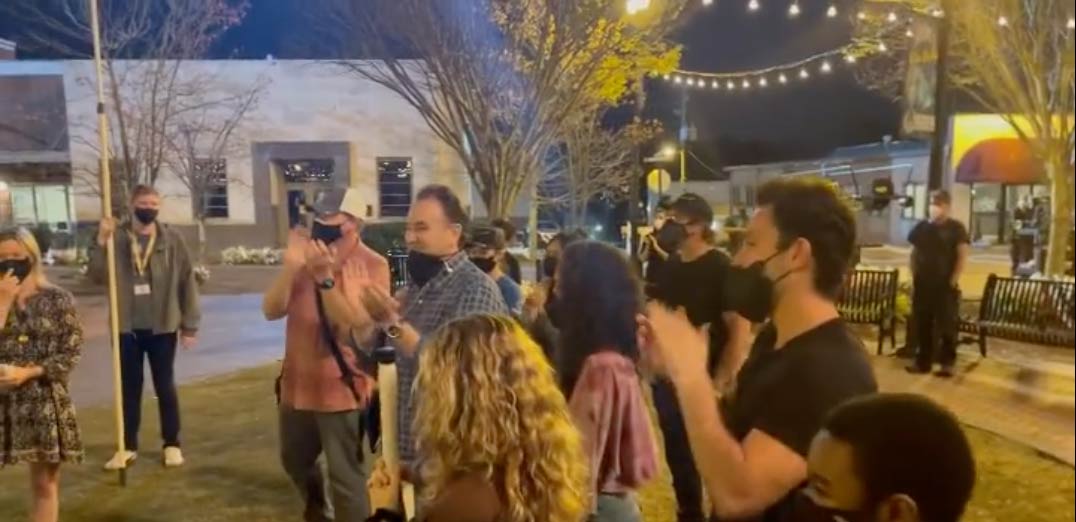 Stargirl.tv: Is there a difference between filming things in Georgia versus the California Los Angeles sort of filming culture?
That's a really good question and that's a really intelligent question because ultimately what ends up on screen, you wouldn't know where it was filmed, necessarily, unless there's a landmark on location. Oh, that's the Empire State Building, you can physically tell that's the Empire State Building. But I think generally speaking in the south, people are really pleasant. And people are really excited to see a film or TV production in their neighborhood, besides the traffic it can cause. But they're sort of pleasantly surprised once filming; who's here and maybe they can see somebody famous, or they get to see a cool costume, or especially Atlanta is really home to a lot of the Marvel and DC feature projects. And so they might see some massive spectacle with three or 400 in the background. You know, things like that. So that becomes really interesting.

In LA, everybody knows LA and Hollywood, you're supposed to see things there. But here, it's still a bit more of a novelty and there's a charm. It's sort of like kids on Christmas morning, that look in their eyes. Oh, my gosh, there's a TV show there. That's really cool.
Stargirl.tv: Cameron Gellman wanted us to ask who's the stronger Dr. Midnite, Charles or Beth?
I think season two is showing how strong Beth is emotionally, how much she's maturing and growing into herself. And there's something to be said for that. I think, physically, we know that some of the other characters are known for their physical attributes, while Beth is known for her mental attributes. Don't count Beth out because I think you're going to see as the story progresses, she's going to take more and more on her shoulders. Now with all of that said, I think right now, OG Dr. Midnight is probably physically a little bit stronger. But that is a formidable opponent.
Stargirl.tv: Let's face it, Beth stared Eclipso right in his eyeballs, and said, I'm not letting go of these goggles.
That's right! She did not back down. And Eclipso is so really dark, dark, dark, scary. He's evil, there's not a sliver of light in there anywhere.
Stargirl.tv: You also mentor up and coming actors, right? I know, you said you've auditioned and auditioned and didn't get the part. But then you finally did. Is there some advice you'd like to give actors that are really just trying to make it right now?
It's such a noble pursuit, acting, and it's so often overlooked. But if you look throughout the history of civilized culture, if you go all the way back to the cavemen, people painted paintings on the wall of the cave to tell us to tell stories. People gathered around the fire. And someone told the story of that battle when they got that woolly mammoth, the giant bore. And they passed those stories down. Storytelling is a central theme in every culture in the history of our planet.

So I try and tell younger actors who often get discouraged because they hear no, no, no, they hear 1000 no's and I say, look, what you're doing is you're carrying on a legacy that's really important. When tragedy strikes, people seek solace in a book, in a painting, or in moving pictures. Know that what you do has value. And that extends to theater as well, obviously, film, TV. The performing art has value. Tthe most important thing to remember is there's no expiration on your dreams. You can be an actor with every breath that you take until the very last breath. You know, as a professional athlete, everyone's going to have to retire at some point. You can no longer run fast enough or jump high enough or throw far enough. But as an actor, the longer your life gets, the more emotional resources you have to pull from. The stronger your storytelling capabilities theoretically are.

And so you can be a storyteller to your very last breath. It's a marathon. It's not a sprint. I love working with actors. I love teaching and coaching.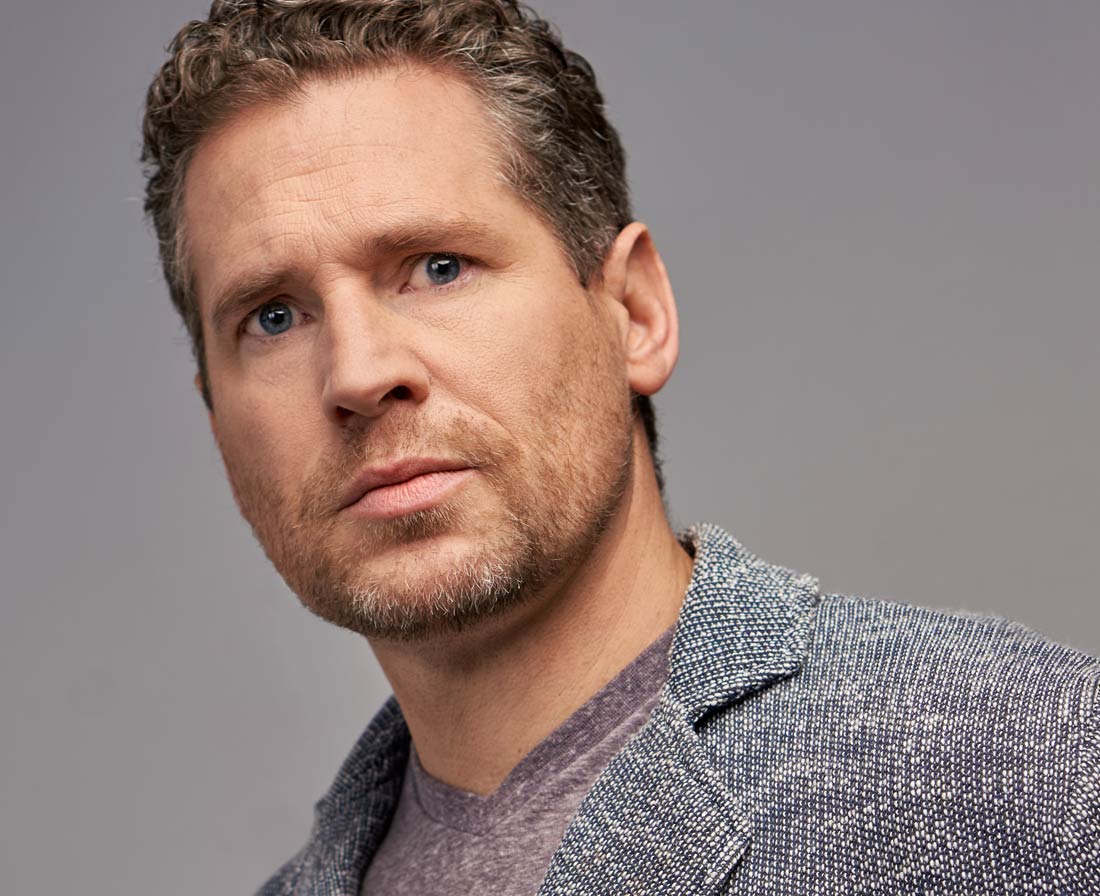 Stargirl.tv: Where can people follow you?
So if anybody wants to really learn about some of the things that I'm doing personally, they can follow me on Instagram, AlexBCollins, or on Twitter, @AlexCollinsActs. And then for free tips and tricks and motivational things about being an actor, @BeyondActing on Instagram.
Again our heartfelt thanks to Alex for not only taking time to speak with us, but doing so twice due to our technical mishap! Let us know your thoughts in the comments below and in the forum! Follow us on Twitter to get breaking news!
10/13/2021 12:48 pm

We are very excited for this next episode! Courtney was lost to the Shadowlands and she isn't alone. We all know that Dr. Midnite is in there and has been talking to Beth through his connection with his goggles, but don't forget that Shiv is also in there! In these seven new images from Stargirl's Summer School Chapter 11, we are seeing five of them in only black and white! It looks like that black cloud that Dr. Midnite has been wandering through clears up a bit and you can at least see things like Blue Valley. But will it be Blue Valley or some kind of dark mirror? How will Courtney get out? Will Shiv come? Will Charles? Check out the images below:
Let us know your thoughts in the comments below and in the forum! Follow us on Twitter to get breaking news!
10/12/2021 6:00 pm

Pat and Barbara's choice to keep how the JSA took down Eclipso the first time has put their relationship with Courtney on very rocky ground. But, just like the heroes they are, their fight against Eclipso has not ended and while still operating at half to less than half power, the team continues to press on. Eclipso is running free with no host this time and Pat thinks that if they are able to repair the diamond and remake Eclipso's prison, they might find a way to put him back in it! But how do you repair a broken diamond? That's where Jenny comes in! Could the JSA's very own Green Lantern have the power to reform the diamond? Let's see in tonight's all new episode of Stargirl, here's what stood out to us:
Decades Ago: After the horrible choice that Starman and some of the other JSA members made to kill Bruce Gordon, we join Sylvester apologizing to Pat. We learn about all the great things Pat did for Sylvester. He was there for him more than his parents were. Sylvester hopes that his actions won't divide the family bond he has with Pat. We jump to today where Courtney is giving Pat and Barbara a piece of her mind. Then, The Shade falls into the kitchen!
The Shade: Mr. Swift is dangerously hurt. But he does offer a solution. Eclipso will be pulled back into the diamond if it is fused back together. The staff unfortunately isn't strong enough to do it however. At the Chapel household, Beth's parents question why she is always wearing the goggles. Beth shuts her parents down when they want to know more. If they don't want to talk about the divorce, then she doesn't have to talk about the goggles. Pat has an idea to use Jenny's ring to fuse the diamond back. While Pat and Courtney are out finding Jenny, Beth arrives to protect Barbara, Mike and The Shade.
Rick In Jail: We finally catch up with Rick, he's been stuck in a cell ever since being arrested. We then see Grundy throw his friend some apples through the window! At the Dugan/Whitmore house, Beth is caught up on the situation. Courtney and Pat have a lead on Jenny because there have been a few green fires reported recently. A Federal building and an old orphanage have mysteriously burned down and the green color draws Pat and Courtney to Jenny.
Original Dr. MidNite: Beth is able to get through to Dr. Midnite and we learn that The Shade actually saved Charles, not killed him. It seems to be an accident that Charles was trapped in the shadowland. We learn a lot about The Shade. He was hired to provide the Black Diamond to a cult but he provided a fake instead. The cult decided to use Swift as a sacrifice instead of pay him. They called upon the dark energy but without the real diamond, the black energy went into Swift. Thus the Shade was born. On the couch, The Shade reveals that he thinks Barbara looks like his sister, Emily. With this new connection to Charles, Beth is able to unlock all the classified files on Eclipso. Pat and Courtney arrive at the garage where he used to work. They find that Jenny has been staying there. She is trying to find her brother.
Mike and STRIPE: Mike attempts to use STRIPE to provide extra protection with The Shade being there. He doesn't get it to start but does hear on the radio about pink lightning. He might be able to find the Thunderbolt. At the Helix Center, Pat and Courtney find Jenny but not her brother. We find out that Jenny is still looking for her brother but she doesn't have a great grasp of her powers yet. They are still emotionally based. Jenny agrees to help out and the three head out. Mike continues to hunt the Thunderbolt and we find out that Thunderbolt has turned a house into a gingerbread house but life size!
In the final wrap up moments, Pat exposes the pieces of the diamond for Jenny to try and reform. Jenny begins to merge the diamond back together but it is affecting The Shade. Turns out he was deceiving them and reforming the diamond gives The Shade his power back and summons Eclipso! Immediately a battle breaks out. Cosmo is of no help and Jenny steps up to stop Eclipso. She fails and Courtney is sucked into the Shadows! Check out the trailer for next week's all new episode below:
Let us know your thoughts in the comments below and in the forum! Follow us on Twitter to get breaking news!