11/12/2019 11:06 am

The mystery behind Stargirl is starting to come into focus and the future is looking cosmically bright! A source close to the show has revealed just what is happening with the long awaited Geoff Johns superhero series. This is going to be bigger than anyone can imagine! First, DC Universe fans will be able to enjoy the show as promised. However, word is that the show will concurrently stream or air on The CW. Details are still being worked out! The fact that now two networks, The CW and DC Universe are providing this show, speaks to the quality and strength of the series. Stargirl's future is only looking brighter!
Let us know what you think of this news in the comments below and in our forum! Don't forget to follow us on Twitter!
11/8/2019 4:22 pm

When will this show debut! You may have noticed in our previous article there is a little frustration in finding out when this show will air. Today, we have bad news. It seems like this show will be delayed a second time! Fans may remember when the show was originally announced at 2018 San Diego Comic Con (over a year ago), the show was supposed to start around August of 2019. It would follow up the completion of Titans season two. Since then, we know there was a reshuffle. Harley Quinn was announced and Titans season 2 had some production issues. All the while, Stargirl was on course to wrap filming in early September (which it did). With episodes already completed it would have been easy to keep the show's debut in August... but that didn't happen.
With the reshuffle of shows, it was forgivable that the show was pushed to January 2020 to accommodate more shows and new content. Now, via YSBNow podcast, series lead Brec Bassinger has gone on record saying the show is delayed again! An official release date is not known but the actor's current speculation is now sometime in Spring 2020! The rumors surrounding the show's move to The CW (being stated as "inaccurate") and our own inside sources saying the show is being edited to fit broadcast television certainly seem to hint that there is something going on with the show and how DC Executives want to debut it. Will Stargirl pivot to become something for network TV? Will DC Universe subscribers be able to watch on their app? For now, all we can do is wait. Stargirl.tv has reached out to official sources for comment. As of now, Warner Brothers has not released a statement.
Let us know what you think in the comments below and in the forum! Are you following us on Twitter?
11/7/2019 7:41 pm

Its been all quiet on the Western front with DC Universe's last live action show to be released from phase 1. The last official statement from anyone involved with the show came all the way back at New York Comic Con where DC Entertainment Chief Creative Officer Jim Lee said they were still very excited about the show but were working out some last minute kinks. Inside sources to Stargirl.tv have hinted that the show is continuing to be edited to fit a broadcast television format. When we asked sources at Warner Brothers about a possible move to The CW, the only thing we found out for sure was that this was "inaccurate". What is going on with Stargirl? Where and when are we going to be able to view it?
One piece of news that does seem to be developing is episode titles for the show have been discovered by Twitter user, Thomas Polito:
Brainwave

Brainwave Jr

Hourman & Dr Mid-Nite

Icicle

Justice Society of America

Pilot

S. T. R. I. P. E

Shiv Pt 1

Shiv Pt 2

Stars and S. T. R. I. P. E Pt 1

Stars and S. T. R. I. P. E Pt 2

Wildcat
Noticeably, there are only 12 titles not 13. Could Hourman and Dr. Mid-Nite be two episodes? The episodes titles are listed alphabetically because the official order is unknown. Stargirl.tv is working to get the order as we speak. Regardless of this news, and January being less than two months away, isn't it about time for DC Universe to start revving up the excitement? A trailer? More photos, something?
Let us know what you think in the comments below and in our forum! Are you following us on Twitter?
10/19/2019 6:20 pm

It's been a big week for Stargirl and nothing has even really changed. A rumor about the show moving to The CW was raised, the rumor went a little wild, then after reaching out to our sources, we discovered the rumor was just a rumor. That said, we did discover something new for Stargirl which is amazing! Geoff Johns' production company, Mad Ghost Productions has an Instagram account. The Instagram is pretty young, really only been posting since September but the images on there are beautiful!! Two images stand out to us, the first is of an old Chevrolet with the hashtag #StarRocketRacer. It is a little difficult to see who's driving but our best guess is Luke Wilson's Pat Dugan! The second image that really makes a statement is the Justice Society of America's famous table! You won't miss it! Check out some of the images below and be sure to follow Mad Ghost Productions on Instagram!
Let us know what you think in the comments below and in the forum!
10/18/2019 2:11 pm

Today, in an article/podcast on Collider.com, Jeff Sneider, author of the article and entertainment reporter, let out a rumor that Stargirl is actually going to be on The CW rather than DC Universe streaming app. If true, this would likely shed light on DC Entertainment's Chief Creative Officer, Jim Lee's comments from New York Comic Con. At the convention, Lee spoke glowingly about the show and the efforts that Executive Producer Geoff Johns has made bringing this show to life. One section of his statement did stand out to us though:
We are still working on a few kinks, but we will share that information going forward.
Moving the show to The CW would require the show to be re-edited so that the show's content could fit into broadcast television format. Could these be the "kinks" that Jim Lee was talking about? See the tweet that sparked this rumor below: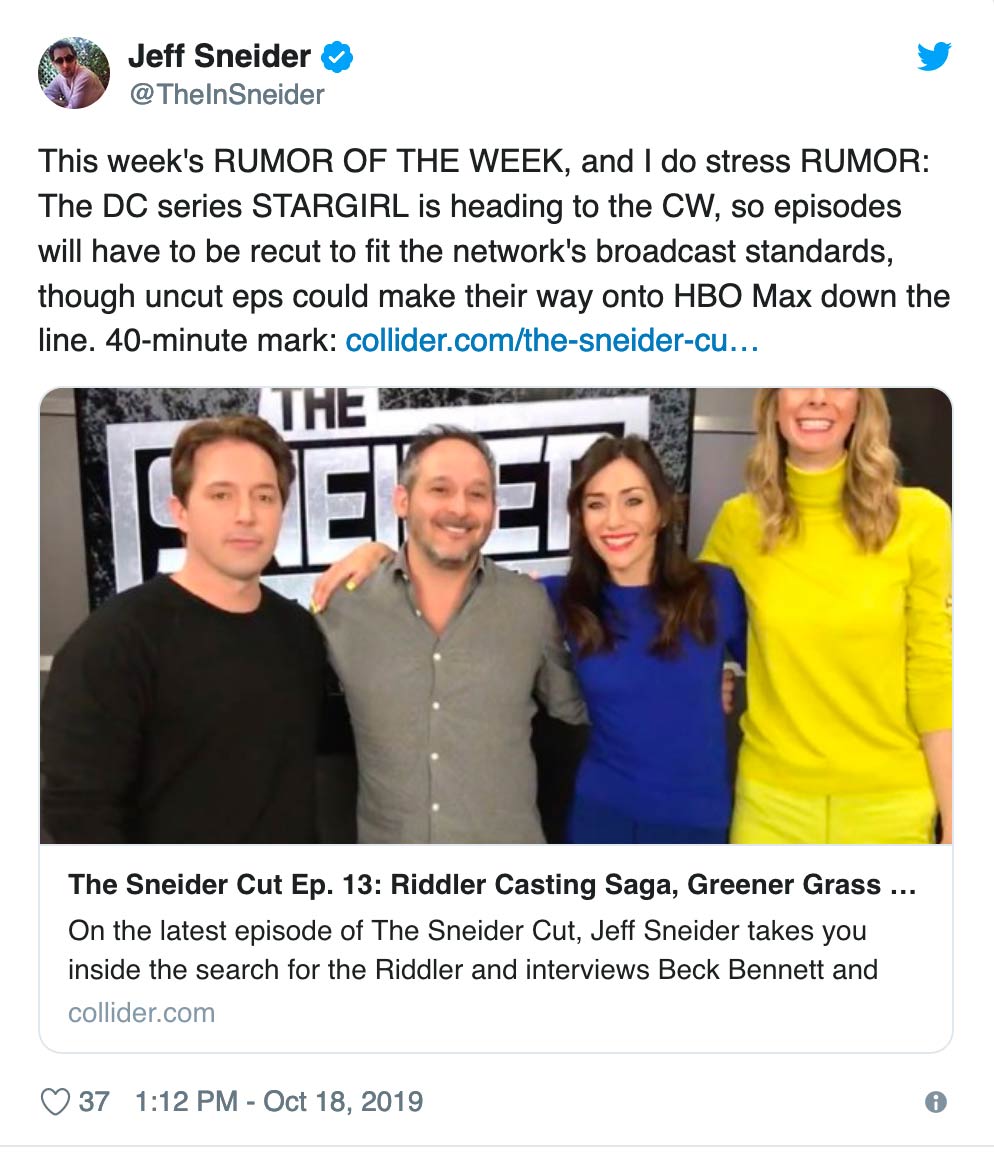 At this point this story remains just a rumor. Stargirl.tv has reached out to Warner Brothers as well as representatives at The DC Universe but have not received a statement. Keep it locked here for all new developments.
---
UPDATE: A source close to the show has reached out to let us know:
This information is inaccurate.
Our feeling is that there might be some more developments possibly in the future but for now, all we can say for certain is that CW taking Stargirl is inaccurate.
Let us know what you think in the comments below and in our forum!