3/16/2021 9:08 am

Greetings Stargirl fans! On the heels of hearing that Stargirl would return for their second season this Summer, TVLine.com is sharing the first look at Nick Tarabay's Eclipso! Nick Tarabay was cast as Eclipso back in October of 2020 and is no stranger to comic book based television. Nick played the character of Digger Harkness/Captain Boomerang on The CW's Arrow. Eclipso looks terrifying, with a mixture of impish sinisterism and cracked skin brimming with coruption. Eclipso is described as:
The ancient entity of corruption and vengeance, who is described as physically imposing and frightening. Brimming with a cold, terrifying darkness, Eclipso exploits the flaws of others, reveling in the impure and sinful, sadistically feeding off the dark side of humanity.
Check out the image below: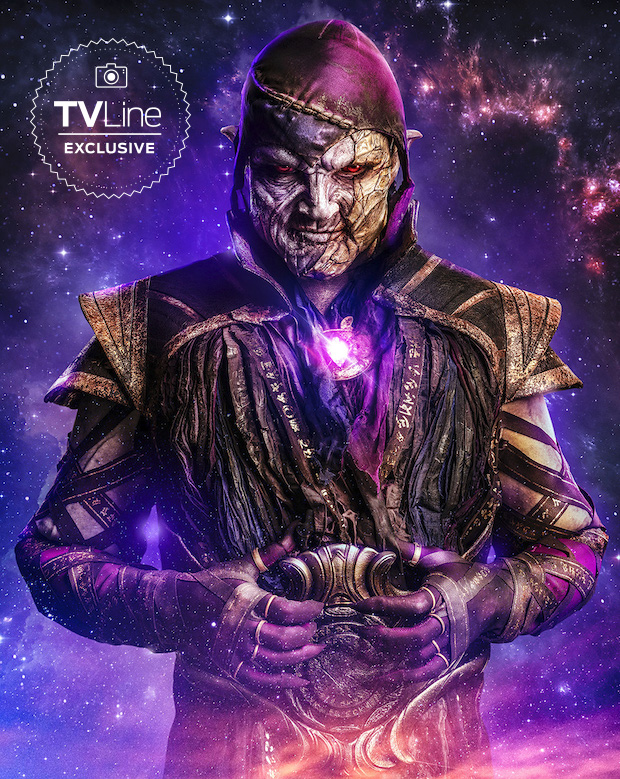 Let us know your thoughts in the comments below and in the forum! Follow us on Twitter to get breaking news!
2/23/2021 6:46 pm

As Arrowverse and Superman fans gathered around the television tonight to welcome the brand new Geoff Johns produced show, Stargirl fans got a sneaky surprise! We've long been wondering when Stargirl would return to our tvs on The CW for season 2 and while we didn't get a date, we did get a timeframe, if that makes sense. Stargirl is set to return this summer. Does that mean late May, or could it mean August? We aren't sure. The show is filming currently and as always it looks like they are having so much fun! We estimate that they are probably filming around episode 9 right now. So if the schedule holds, Stargirl could make an early summer debut! Regardless, we can't wait! Check out the teaser below:
Let us know your thoughts in the comments below and in the forum! Follow us on Twitter to get breaking news!
2/18/2021 10:50 am

Crisis on Infinite Earths did a lot for the Arrowverse. It consolidated Black Lightning, Supergirl and The Flash's worlds and let them all exist as one Earth, Earth Prime. The other thing it did was to show that other new worlds existed and one of those worlds was Stargirl's. We learned then that she exists on Earth 2, commonly the Earth used for the Justice Society of America. Fans of The Flash may remember that John Wesley Shipp, who played The Flash in the 90's series also played Jay Garrick on The CW's The Flash series from another Earth. Today, according to Entertainment Weekly, we are learning that the first Arrowverse/Stargirl crossover has been set for episode 9 of Stargirl season 2! John Wesley Shipp will reprise his role as the first Speedster Jay Garrick! According the EW:
Jay Garrick plays a role in a pivotal flashback episode that establishes the Golden Age Flash as a member of Earth-2's Justice Society of America. This miniature crossover will officially bring Stargirl [Brec Bassinger] into CW's post-Crisis Arrowverse alongside The Flash, Superman & Lois, Batwoman, Black Lightning, Supergirl, and DC's Legends of Tomorrow.
Stargirl will continue to exist on her own Earth-2 but the potential for future crossovers with Arrowverse shows now exists with this development! Very exciting!
Let us know your thoughts in the comments below and in the forum! Follow us on Twitter to get breaking news!
1/19/2021 1:07 pm

Many will remember how last season, the cast and crew of Stargirl loved to share how much fun they have on set, without giving away any plot points. That level of fun and enjoyment is easily seen on screen when we watch the show. Today, we've gathered many images from the cast and crews social media accounts to share with you just how much fun they are having yet again! Our leading lady reveals she wears multiple stars everyday and marvels at a freak snow storm in unfreezing warmth. Cameron Gellman shares his iconic classic yellow Mustang! He also is talented at catching the snowflakes in his mouth as they rained down. Our own Mike Dugan, Trae Romano hinted at some wonderful father son scenes coming up with co-star Luke Wilson aka Pat Dugan. All in all these photos will warm your heart. Here's to season 2! Check out the images for yourself below:
Brief note, that last image is a fan art piece we did to celebrate the first season. You can download it in the members section. Let us know your thoughts in the comments below and in the forum! Follow us on Twitter to get breaking news!
1/7/2021 10:52 am
Happy new year Stargirl fans! Today, Stargirl.tv has learned that conversations regarding a third season of Stargirl are underway and all indications are looking like a season 3 is a go! With HBO Max gobbling up DC Comic properties it would be easy to imagine the show joining HBO Max's line up after airing on The CW. Further more, Stargirl.tv has exclusively learned that season three of Stargirl will feature the DC Comic's character, Bruce Gordon! In the comic books, Bruce was often the human host for Eclipso out of Eclipso's necessity. Bruce is the world's leading scientist in Solar Energy, the main weakness of Eclipso, therefore Eclipso would often take over his body to keep him distracted and unable to complete his work. The comic book version of Bruce is described as:
Bruce Gordon is Earth's leading scientist in the field of Solar Energy, coincidentally the one weakness of the God of Vengeance, Eclipso. As such, the evil Eclipso makes many efforts to distract Gordon and ruin his life by using him as his own physical host, keeping him as busy as possible. Bruce Gordon reluctantly acted as Eclipso's human body for many years, and has found himself able to control Eclipso's powers without the mental influence of Eclipso, as long as he keeps his temper in control.
If this is the version of Bruce Gordon we'll see on the show remains to be seen, but considering how the show has used comic book influence in the past, much of Bruce Gordon's story may be the same. As for season three, while all indications we've seen are looking like this is a sure thing, only the network can officially announce the third season is a go, however, if there is a third season, keep an eye out for Bruce Gordon!
Let us know your thoughts in the comments below and in the forum! Follow us on Twitter to get breaking news!