10/28/2020 11:42 am

Today, Stargirl.tv sources have confirmed that the previously undisclosed role that Ysa Penarejo is playing is actually that of the DC Comic's character Jade. Jade is the daughter of the first and original Green Lantern Alan Scott. Season 1 fans may remember that Courtney actually has the Green Lantern in her room after stealing it away from the old JSA headquarters. The fate of Alan Scott is not known but it is very possible he has passed on like the other members of the original JSA. Jade does have a brother as well. Will he be making an appearance? There have been several iterations of Jade, some where she's needed a power ring and others where she can directly control her green energy power without needing a ring or battery to recharge. What version we might get in the show remains to be seen but we are so excited for it!
Let us know your thoughts in the comments below and in the forum! Follow us on Twitter to get breaking news!
10/26/2020 3:39 pm

Filming on the second season of the smash hit Stargirl has begun and as we know from season 1, Shade is expected to make waves this second season. That isn't all, Meg DeLacy's Shiv has found the crystal holding the entity of Eclipso and we believe she has every intent to free him and use his power to test the newly founded JSA. Today we can finally put faces to these names (via Deadline.com) as The Expanse's Nick Tarabay was cast to portray Eclipso, a series regular role. Opposite him is The Affair's Jonathan Cake, as The Shade, a recurring part. Additionally Ysa Penarejo has been added to the cast as well in a yet undisclosed role. Eclipso is described as:
An ancient entity of corruption and vengeance. Brimming with a cold, terrifying darkness, he exploits the flaws of others, reveling in the impure and sinful, sadistically feeding off the dark side of humanity.
The Shade is described as:
An English immortal. Tall and slim with an elegant 19th Century way to his speech and manners, he masks the horrors he's experienced and people he's lost in all the time alive with wry, witty retorts and a false sense that nothing really matters.
Let us know your thoughts in the comments below and in the forum! Follow us on Twitter to get breaking news!
10/23/2020 9:56 am

When it comes to Stargirl, there is a lot to love! The series was heralded as a huge success with it's first season being shown on both DC Universe and The CW. Now that the show is solely on The CW, the potential for even higher ratings success is 100% on the rise! But that's not all that we are loving about Stargirl, for us, its such a joy to see how these incredibly talented young actors behave around each other off screen. In her story on Instagram, Anjelika Washington aka Dr Midnite herself, shared a few fun images of the cast reuniting in Atlanta that made us smile (something this show is very good at making us do). While there remain many unknowns for season 2, like who will play Shade and what new members of the JSA might show up, one thing is clear, this cast is having a blast and is such a joy to be around!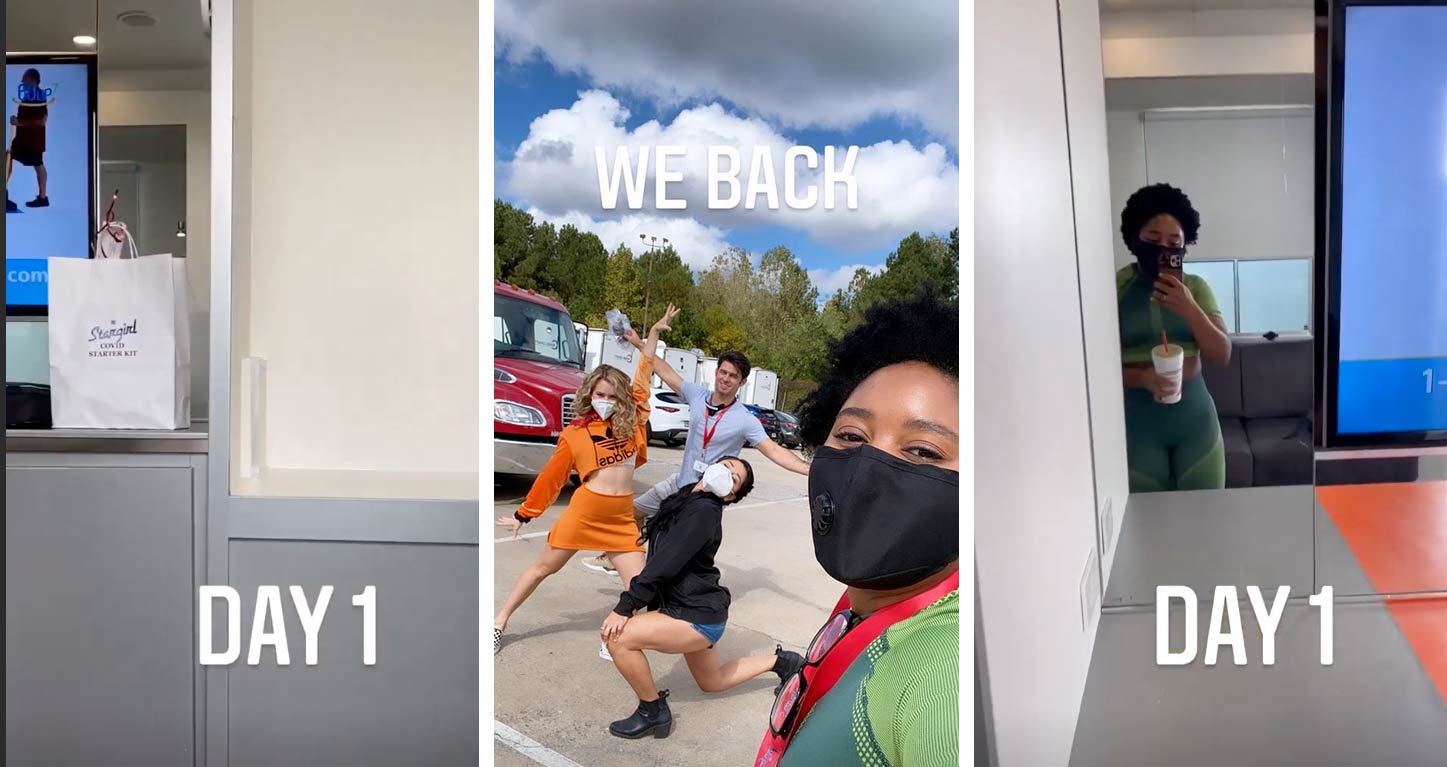 Let us know your thoughts in the comments below and in the forum! Follow us on Twitter to get breaking news!
10/9/2020 10:16 am

In an interview with Lightcastpod, Meg Delacy spoke about some of the changes to how Stargirl is being made in it's second season. While the first season was fully funded by the now, dimished DC Universe, this season is being funded by The CW. With that comes a bit of a budget change. In recalling how the first season was filmed, Meg remembered that each episode took two weeks long to film. Now, production is expecting to come in at a week and a half per episode. That is actually the industry standard for most hour long episodes of television. Other superhero shows, Supergirl for example, also shoot on that schedule. Meg also went on to confirm that the second season in full has a thirteen episode order just like last season. Meg did note that a lot of the filming and schedule last season was to work together and get the cast and crew feeling like a team. Because they all have that going into this second season, doing a faster episode turn around won't be too difficult. Speaking on season two Meg stated:
We're still going to be out there [Atlanta and Dallas, Georgia] for six months, so we're going to be taking our time, but I think this season is going to be less action-packed and more so character analysis and character driven with more layers which is kinda cool, I'm excited to hop into that side.
With Geoff Johns returning as showrunner for Stargirl as well as having a full six months to do thirteen episodes, we are very excited for this season! For the full hour long interview where Meg talks about her wonderful singing among other topics visit Lightcastpod. Let us know your thoughts in the comments below and in the forum! Follow us on Twitter to get breaking news!
9/29/2020 12:39 pm

When you get a green light in the show biz industry, you better get going! Stargirl's HUGE success paved the way for The CW to adopt the show fully for a season 2! With the filming industry finding a way to get back to work amid the quarantine, its time for the cast of Stargirl to get back to work. Some of our sources have noted that at least two of the scripts for season 2 have been finished and actors like Hunter Sansone are setting up their lives again in Atlanta for the next 6 months! Our very own Mark Ashworth, (aka Sir Justin) noted mid-October is likely when filming will begin! In a previous article, we noted that Geoff Johns wasn't done telling the story of Cameron Mahkent or fellow ISA daughter, Artemis Crock. We are so curious to see if Cameron manifests powers and where have Artemis' parents gone? Are they still alive? So much to look forward to!
Let us know your thoughts in the comments below and in the forum! Follow us on Twitter to get breaking news!