9/9/2021 9:58 am

Welcome back Stargirl fans! As we are gearing up for the most game-changing episode of Stargirl to date, yes, we really mean episode six is that big, The CW has released a brand new poster for the show. The poster features The JSA, All in hero poses and filtered to look like they were illustrated on the cover of a school notebook. It also features Shiv with stink lines and poison signs and a bust shot of Eclipso in person with devil horns and a note "bad guy" on it. Personally, this kind of poster might have been better shown at the beginning of the season because where we are going is so much darker and serious. Check it out for yourself below: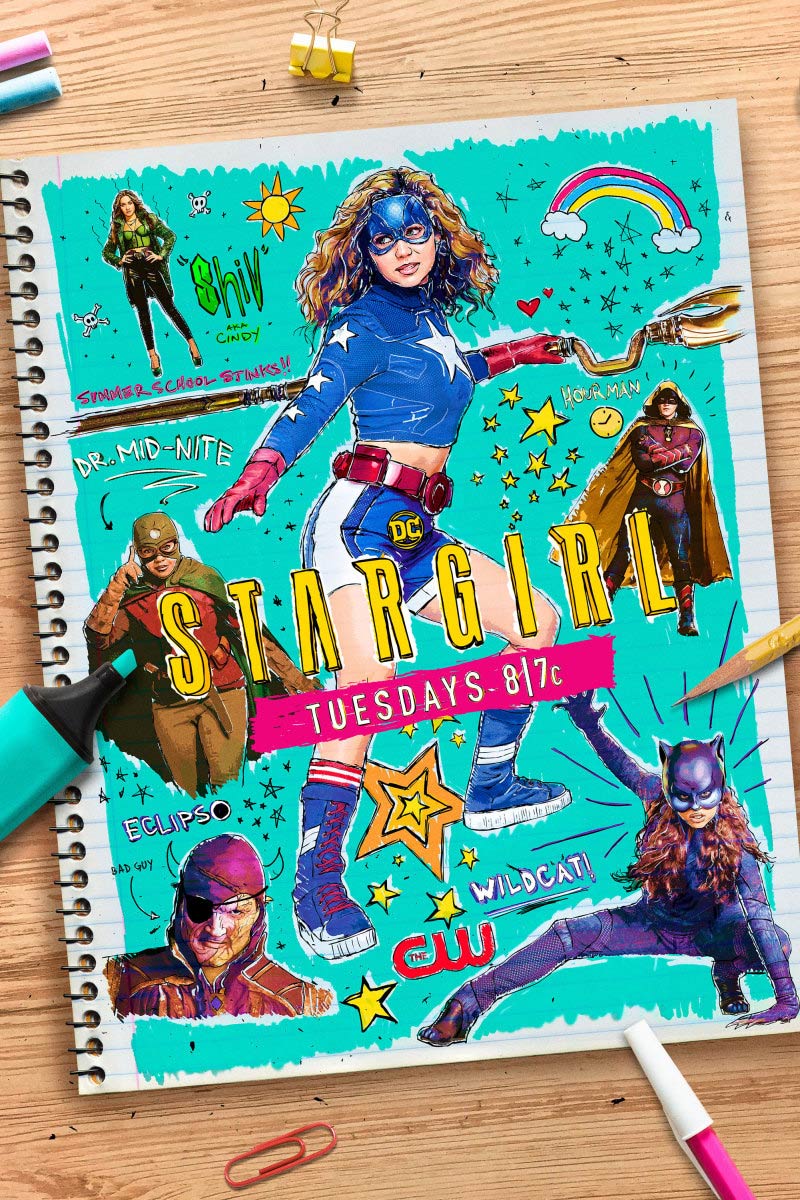 Let us know your thoughts in the comments below and in the forum! Follow us on Twitter to get breaking news!
9/8/2021 1:31 pm

Well well well, guess it's a double dose of photos from The CW this week! Stargirl's sixth episode is a pivitol one that forces the new ISA to fight the JSA. What we can tell from these photos released today for the seventh episode is that our core four from the JSA make it out alive from that conflict. However, we also know that this seventh episode is going to feature Yolanda making a "heartbreaking" decision. There is one photo in these new six images that is very powerful and has us wondering what just is happening! Did you catch that bloody handprint on the glass window with Yolanda? Share your theories and check out the gallery below:
YOLANDA FACES HER PAST — When the guilt over Brainwave's (guest star Christopher James Baker) death becomes too much to handle, Yolanda (Yvette Monreal) is forced to make a heartbreaking decision. Brec Bassinger, Luke Wilson, Amy Smart, Cameron Gellman, Anjelika Washington, Trae Romano and Hunter Sansone also star.
Let us know your thoughts in the comments below and in the forum! Follow us on Twitter to get breaking news!
9/8/2021 11:30 am

This episode is the last of the episodes we were able to screen ahead of time and we have to tell you guys, THIS IS THE EPISODE! Cindy has been recruiting the sons and daughters of the original ISA and she is looking for revenge against Courtney, her family and the members of the JSA! The attack will be well orchestrated and she'll have the Black Diamond at her disposal! Courtney's JSA is going to have to face a new brand of the ISA with Cindy wielding the power of Eclipso! Bring the pop corn because this is cinema worthy level action! We can promise you at the end of this episode, nothing will be the same! Check out six brand new photos from Summer School Chapter 6 below:
THE NEW INJUSTICE SOCIETY MAKE THEIR MOVE — Cindy (Meg DeLacy) and her new team make their move against the JSA leading to an epic showdown. Brec Bassinger, Luke Wilson, Amy Smart, Yvette Monreal, Cameron Gellman, Anjelika Washington, Trae Romano and Hunter Sansone also star. Walter Garcia directed the episode written by Paula Sevenbergen (#206).
Let us know your thoughts in the comments below and in the forum! Follow us on Twitter to get breaking news!
9/7/2021 6:10 pm

OH WOW, there was a lot to unpack tonight! The JSA went up against Eclipso whose powers have increased now to work outside of the confinement of the black diamond! While the JSA didn't take on the full version of Eclipso it was only Courtney that was able to blast clean her summer school professor and save the day. We ended with Cindy's ISA all gearing up to combat the JSA but Cindy wasn't able to get Cameron on their side. That however, could still be up in the air since his powers started to manifest at the mural! What does Cindy have in plan for Mike Dugan and will the JSA be able to stop Cindy while she is in possession of the Black Diamond? Check out the trailer for next week's all new episode below:
Let us know your thoughts in the comments below and in the forum! Follow us on Twitter to get breaking news!
9/7/2021 6:00 pm

Forces are starting to gather against the JSA and Courtney's team might not be ready for the magnitude of what is coming! As we march into the fifth chapter of Summer School, Blue Valley isn't really looking like it's even summertime anymore. Darkness and cloudy weather seem to effect only the sleepy Nebraska town. Cindy Burman, still calling the shots with Eclipso, has a few more recruits to gather to her new ISA team just leaving Cameron Mahkent and whatever she plans for Mike Dugan to take place. Of course, there is something going on at the school as well since we see the full JSA in uniform arrive to deal with some kind of disturbance! The show is really heating up! Here's what stood out to us:
Farmersville, California 10 Years Ago: We open on Cindy as a young girl. Her real mother is still alive and she is having nightmares about her father turning her into something like him. It's clear they are hiding away from The Dragon King. As soon as the lights go out though, The Dragon King is there to take Cindy. Jumping forward to today, Cindy looks to approach Cameron but his grandmother is there endowed with the same ice powers to chase Cindy away. Courtney returns to Pat waiting in her room. Courtney wants more information about Eclipso and is relying on The Shade to help but Pat is there to share that Eclipso is turning the weather.
Cameron and Courtney: Cameron returns to the school since it looks like it might rain. His sketch book dropped open and we see that Cameron has been drawing Courtney in his free time. Cameron's art professor encourages him to show Courtney his art. Cameron arrives in the studio to find Cindy there waiting for him. Cameron calls out Cindy for what she said in fourth grade and the two were about to come to blows when the art teacher interrupts. He is possessed by Eclipso as Cindy leaves.
Richard Swift: The Shade arrives at The American Dream to speak with Barbara. She calls him out immediately as The Shade. The Shade says Barbara reminds him of someone from his family. He demands that Barbara tell Courtney to stop looking for him. The Shade says that he wants to warn Barbara to keep The JSA away. "They are far too young to face the horrors coming". At The Pit Stop, Beth tells Pat that she heard the first Dr. Midnite through the goggles. Pat notes that Eclipso can make you see and hear things and Beth should be cautious. At school, the art professor falls deeper under Eclipso's spell and begins vomiting paint.
Mike and Zeke: Mike is looking for any way to be a part of the team. He is at Zeke's place trying to buy a car. Pat is trying to balance including Mike but also keeping him from the evil that is Eclipso! Pat offers Mike a project they could do together and Mike is elated. While Yolanda and Courtney are walking home from school, Courtney hangs back to speak with Cameron. Cameron shows Courtney his art and that he's been drawing her. Meanwhile at the school, Eclipso uses the art professor to paint his vision. Courtney and Cameron hang out together at his place for a bit. They almost share a kiss when Courtney is called away on JSA business.
Weather Patterns Draw in the JSA: Beth has been tracking the weather with the help of the goggles. The epicenter is now at the school where the art professor is. The art studio is covered in black diamond paintings. Wildcat picks up one and sees Brainwave. Eclipso is trying to manipulate the JSA and their fears. Each member of the JSA start to fall. Eclipso is attacking each with their fears. Courtney ends up being the only one left. The art professor is fully taken by the Black Diamond's darkness and Courtney offers the light of the cosmic staff to pull him from Eclipso's grasp. Courtney is successful and the JSA is released from their nightmares.
In the final wrap up moments, the JSA debrief at The Pitstop. Eclipso is getting stronger that he can use his powers beyond the black diamond. Beth finally confronts her parents about their divorce. They haven't decided if they will go through with it yet though. Her parents don't give a good answer and ask to speak as a family that night. The ISA meet in the tunnels where Cindy, Issac and Artemis plan their attack on the JSA. Cindy points to Mike's photo. Her plans aren't fully known yet. Cameron, painting at the mural, drops his brush when it freezes over. His powers are starting to show!
Let us know your thoughts in the comments below and in the forum! Follow us on Twitter to get breaking news!