9/9/2018 2:34 pm

Ten years ago, fans of Stargirl might have only dreamed of seeing a show centered around her but with the advent of The DC Universe streaming service as well as the sucess of shows like The CW's Supergirl, Arrow, and The Flash, that dream is easily a reality. While this is the first time that an entire show will be centered around Courtney Whitmore, it is important to know that this isn't the first time that fans have seen a live action version of Stargirl! Courtney made her live action debut in a special two part episode of Smallville titled "Absolute Justice". At the time, Courtney was played by Brit Irvin. Brit even reprised the role twice more in season ten of Smallville. More recently, Courtney appeared along side the epic team, Justice Society of America in The CW show, Legends of Tomorrow. This time she was played by Sarah Grey. In a somewhat bizarre twist, Courtney was lost in time and ended up in Camelot where she adopted the wizard mantle of Merlin.
Executive Producers, Greg Berlanti, Sarah Schechter and Geoff Johns, who have done a lot of work on The CW's shows, have a habit of making legacy casting choices. Legacy casting is a term used to describe when an actor who played a title role previously in a different show is brought back to play a new role in the new or current interpretation. A perfect example of this is Supergirl's Helen Slater, who was the original Supergirl from 1984, was brought in to play Eliza Danvers, Kara's adoptive mother. Supergirl is actually filled with examples like this. Dean Cain, Erica Durance, Teri Hatcher, and Laura Vandervoort have all appeared on Supergirl at some point and payed homage to their previous roles in some way.
With this trend being well established for this production company, it isn't unrealistic to think we might see Brit Irvin (33 years old) or Sarah Grey (22 years old) return in some way. While the actors are a bit older now then what the show is looking for in their title character lead, the opportunity for them to return as JSA team members, teachers at Blue Valley High or aunts/cousins who could ceremoniously pass on the mantle in some way easily exists.
Who these previous Courtney Whitmores might play are anyone's guess which is why we want to hear from you, who do you think they could play even if it's just a guest spot. Let us know what you think in the comments below and in the fourm!
9/5/2018 10:28 am

Before there was even an idea for DC Universe and the original programing DC Comics could bring to their fans, Greg Berlanti and his production agency were creating a television universe that's success has rivaled the DC Entertainment Universe filled with blockbuster movies. The "Arrowverse" as its know or Berlanti-verse consists of shows like Arrow, Legends of Tomorrow, Supergirl and The Flash (with Batwoman coming soon). Executive Producer and creator of Stargirl, Geoff Johns, has been working with Greg on creating this incredible universe since it's inception. In an interview with cbr.com, Johns explained how the success of The Flash's Gorilla Grodd paved the way for the ability to do a show like Stargirl.
Really, I think, with the budgets and the time and the creative has pushed this stuff to be closer to lore and celebrate the lore and I think that's going to be a lot of fun. So making S.T.R.I.P.E. is hard, like a Gorilla Grodd, you know? Greg Berlanti and I were talking the other day and he was like, 'You know, when we started doing Flash, in the pilot we put in the gorilla cage that was bent open and we had the Grodd thing there and was like, oh, gorilla was affected by the explosion and, at the time, people were like, how are we ever going to do Gorilla Grodd? How are we going to do Gorilla Grodd? And they were like, well, we want to try. We want to try.' I think Grodd is kind of this great — he was like the first thing, and now you look at everything that's happening like, 'Yeah, we could pull off S.T.R.I.P.E.'
Johns went on to explain more about what Stargirl would ultimately be about and how the show is looking to redefine S.T.R.I.P.E. and the Justice Society of America:
Much like, you know, Arrow reimagining Green Arrow or Smallville, I'm taking a brand new direction on Justice Society. It'll be, I think, more closer to the lore. I wanted to kind of do a brand new reimagining of it for Stargirl. You can't do Stargirl without S.T.R.I.P.E. Yeah, he's in there. It's cool because, I have to say, with Titans and with Doom Patrol, Warner Bros. has given us the ability to build Robotman and we're doing Elasti-Woman and Crazy Jane and Negative Man and, in Titans, there's great scenes with Dick Grayson in the Batcave.
If anything, the Arrowverse has shown that epic comic book shows can be done on a television budget and Stargirl's ability to be created truly comes with the success of The CW's comicboook universe. Let us know what you think of the Stargirl direction in our comments below and in our forum!
8/29/2018 6:05 pm

Stargirl (the Greg Berlanti, Sarah Schechter and Geoff Johns produced show) is only available on The DC Universe streaming service which held a preview launch live on Facebook today! We watched with much anticipation and learned a few fun facts about the service, the show, and what to expect. Many might know Berlanti's work on The CW shows like Supergirl, The Flash, Arrow, and Legends as well as Black Lightning and the upcoming Batwoman. Stargirl, while likely having the same feel of the other DC shows on The CW, is not going to be a part of the Arrowverse (exclusively on The CW). However, since Geoff Johns is producing up to 65% of the shows on DC Universe, the likelihood of Stargirl having crossovers with some of the other DC Universe shows is pretty high.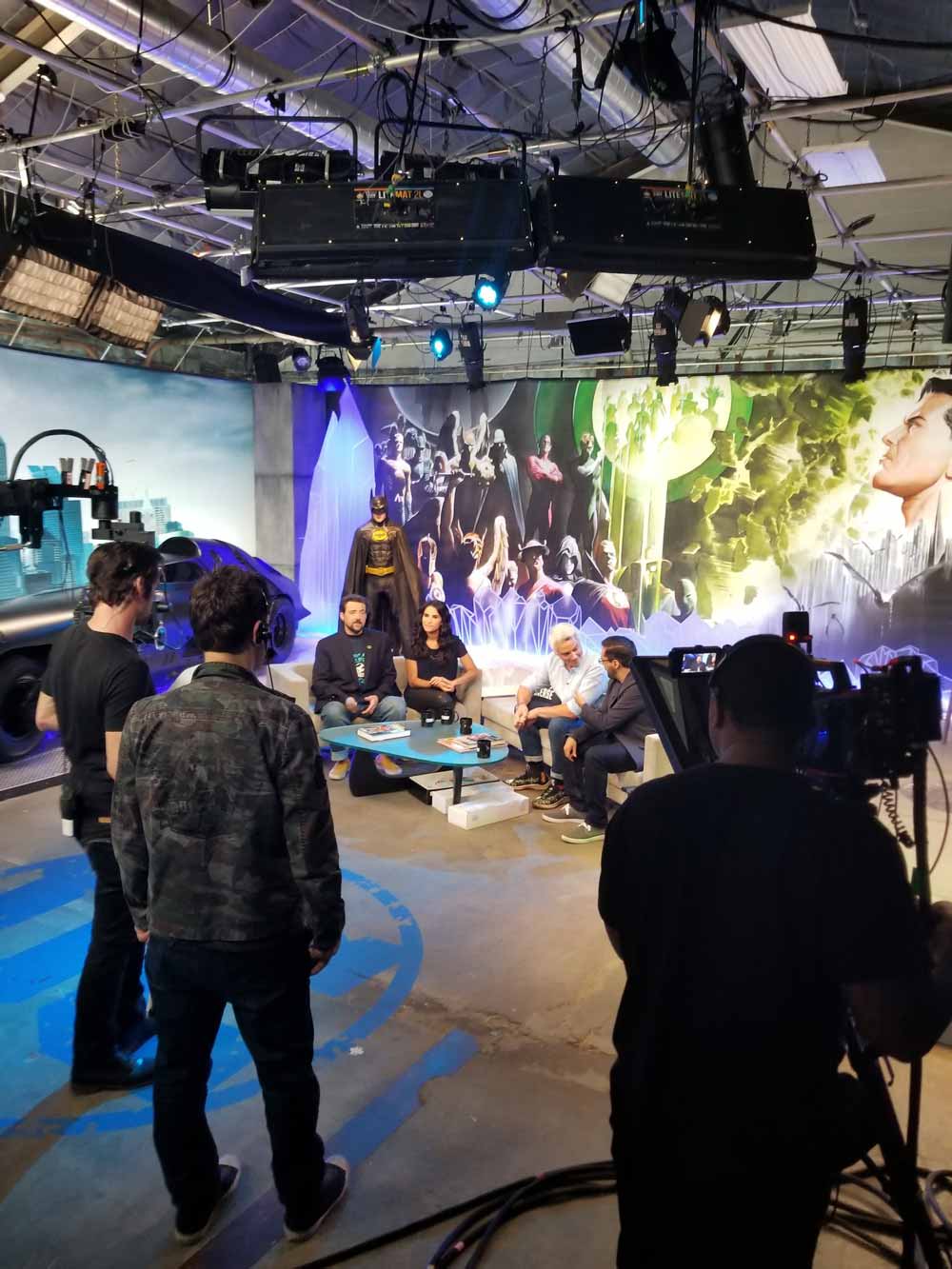 DC Universe will launch its streaming service September 15th, 2018. Users will instantly have access to all that the service has including shows like Lois and Clark, The New Adventures of Superman, and Batman the Animated Series. It will also begin its original programing in October with their first original series, Titans. Original content will be released one episode at a time every Friday. A release date for Stargirl wasn't included, but given this format, its likely to assume we will be enjoying Stargirl on Friday nights!
Also during the live event, Jim Lee, Chief Creative Officer of DC Comics and the person heading up DC Universe, wanted to share the official logo for Stargirl. It looks very familiar, you can see it below!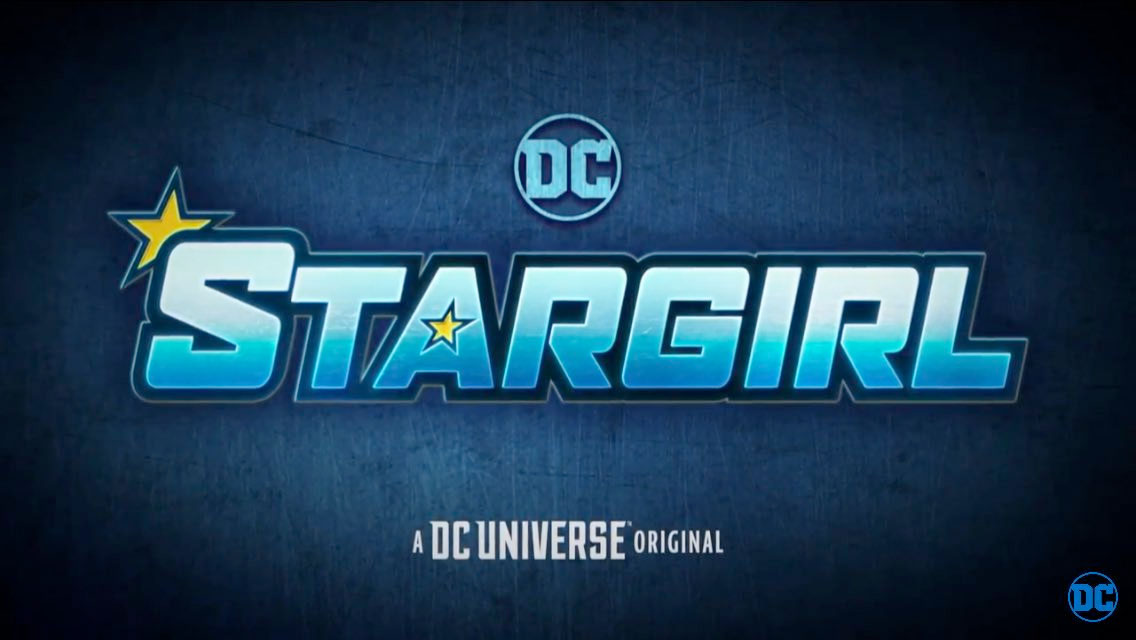 To catch up on the two-hour debut Facebook live event, you can visit DCUniverse's Facebook page here. If you are ready to sign up for DC Universe and by extension have all the tools you'll need to watch Stargirl, you can sign up here. Let us know what you think of the new DC Unvierse streaming service and Stargirl in the comments below and in our forum!
8/26/2018 4:32 pm

Rumors are continuing to surround Stargirl, DC Universe's next big show to join their proprietary network. Three characters that we know are being cast are Courtney Whitmore, Stargirl herself and joining her is Yolanda Montez (Wildcat) and Pat Dugan (Stripsy). But if the rumors are true and Courtney will be responsible for developing a new generation of the classic and epic team, Justice Society of America, then Stargirl, Stripesy and Wildcat might find themselves a little short-handed. Much like another DC Universe show, Young Justice, there is an attraction to brining on a few more younger heroes to mold into the next generation of superheros. Here are a few of our choices that we would like to see join Stargirl on her freshman season:
CYCLONE had a short run within the JSA comics in the early 2000s, but her interactions with Courtney were hilarious. Her power set is perfect for this kind of show. She isn't over-powered, but she could be a great asset to Stargirl's newly forming team. Maxine Hunkel has that perfect record 4.0 GPA kind of feel and while in the comics she was 19, it would be very easy for the show to reduce her age a little bit and have her go to Blue Valley High with Yolanda and Courtney.
ARTEMIS has had a live action version on The CW's Arrow but her version was vastly different than what we've come to love on Young Justice. Having an archer on the team without any other powers would bring that vigilante representation that the JSA needs. Again as before, Artemis Crock's age could easily be changed to fit in the younger high school dynamic the show is looking to cast and she could even be from a rival high school to add a little drama and spice within the JSA.
HOURMAN was a member of the JSA known for his vitamin formula that gives him superhuman strength and speed for 60 minutes. Rex Tyler could help Pat Dugan be a mentor for the new team and potentially act as mission leader. The show could even remake the character and have Rex's son take on the role of Hourman much like The CW's Supergirl repurposed Winslow Schott as a supporting character for Supergirl. Rex Tyler Junior could be the successor to the original Hourman from the JSA.
GREEN LANTERN has a massive universe almost all to his own. The Green Lantern Corp could be a whole show or series on its own which is why Alan Scott's version, traditionally affiliated with the JSA would be a perfect way to bring in the powers of a Green Lantern without having to address the corps. The best part about Alan Scott is that he is dependent on his ring like Courtney will be on her staff. Without her staff, she won't have her powers and Alan can mentor her in the importance of being a hero while working safely with her totem.
TERRA might be our wildcard idea, but she does bring some pretty cool options. With her powers, Terra could be a powerhouse on the team. Combine her with Cyclone and you'd have a Earth and Wind kind of duality that could be very fun. Additonally, she could have a great learning curve to her powers that writers could work with. If she is the strongest on the team but scared to use her powers, you instantly have a hero's journey at your fingertips.
We admit that the team might be a little female heavy for now but it will all come down to how Mad Dog Productions' Executive President Geoff Johns and his partners at Berlanti Productions decided to build the show. Stargirl may not even need many team members at this point because for now, the rebuilding of the JSA is just a rumor! Either way, we can't wait!
Let us know what you think of these suggestions and make your own in the comments below and in the forum!
8/14/2018 12:04 pm

Stargirl is taking another step forward in its development today! ThatHashtagShow has discovered the series synopsis for Stargirl! Of course, most important to the show is its lead character, Courtney Whitmore. The character breakdown goes hand in hand with the series synopsis. It sounds like Berlanti Productions is looking for an 18 year old+ actress who can play 15 years old. Ethnicity is not important. Check out the character breakdown below:
The series is looking to cast an 18+-year-old actress, of any ethnicity, to play a 15-year-old Courtney. Described as an intelligent, compassionate and athletic young woman, Courtney is witty as well as an incredibly kind individual who is living a perfect teenage life in Los Angeles, California. However, her life is completely changed when her mom gets married. Because of this, Courtney is forced to leave her life in L.A. behind as she moves to Blue Valley, Nebraska with Courtney's mom's new husband and his family. While she struggles to adjust to life in Nebraska, from attending a new school to living with a step-family, Courtney's life is forever changed when she discovers that her stepdad has a big secret. He used to be a superhero's sidekick and Courtney takes it upon herself to "borrow" this superhero's cosmic staff which leads Courtney to become a surprising inspiration as she leads a brand new generation of superheroes!
Of course, based on what we've seen through casting, Courtney's new step-father is none other than Patrick "Pat" Dugan aka Stripesy. Joining Courtney is Yolanda Montez, the god-daughter of Ted Sullivan who was the Wildcat back in the day. Accompanying the character breakdown is this synopsis for the show:
STARGIRL follows High School sophomore Courtney Whitmore who inspires an unlikely group of young heroes to stop the villains of the past. This new DC Universe series reimagines Stargirl and the very first superhero team, the Justice Society of America, in a fun, exciting and unpredictable series premiering in 2019, produced by Warner Bros. Television, Mad Ghost Productions and Berlanti Productions.
We don't know about you but this sounds AMAZING to us! Stargirl is going to pair superhero drama with high school coming-of-age stories, all while building a new superhero group! We are so excited! Let us know what you think of the news in the comments below and in the forum!