7/4/2019 2:41 pm

Happy Fourth of July everyone! Such a fitting holiday for our Stargirl! While the cast and crew take the day to celebrate the birth of our nation, we thought it would be worth while doing a quick level set of who is playing who on the show! As we've mentioned before, we believe that many of the characters on this show remain unnamed because their development will be a key plot device in the show. We are learning how this new generation of heroes and villains become who they are through the influence of their parents, their own choices, and the choices of those around them. That said, here are who we think is playing who.
Characters Known For Sure:
Courtney's Family
Brec Bassinger: Stargirl/Courtney Whitmore
Luke Wilson: S.T.R.I.P.E./Pat Dugan
Amy Smart: Barbara Whitmore
Trae Romano: Mike Dugan
---
Previous or Active JSA Members
Joel McHale: Starman
Lou Ferrigno Jr.: Hourman/Rex Tyler
Brian Stapf: Wildcat/Ted Grant
Henry Thomas: Charles McNider/Dr. Mid-Nite
---
Previous or Active Injustice Society Members
Joy Osmanski: Paula Brooks/Tigress
Neil Hopkins: Lawrence Crock/Sportsmaster
Nelson Lee: Dragon King
---
Blue Valley Citizens
Meg DeLacy: Cindy Burman/Shiv
---
Characters (not confirmed by DC Universe):
Neil Jackson: Jordan Mahkent/Icicle Sr.
Hunter Sansone: Cameron Mahkent/Icicle Jr.
Jim France:

Sofus Mahkent

Lesa Wilson: Bobbie Burman/Shiv's (step) Mom
Wilmer Calderon: Juan Montez (Yolanda's Father)
Kikey Castillo: Maria Montez (Yolanda's Mother)
Christian Adam: Joshua Hamman (Possible Love Interest for Courtney)
Kristin Brock: Wendi Tyler (Hourman's Wife)
---
Characters We Are Guessing On:
Yvette Monreal: Yolanda Montez/Wildcat 2
Skyler Knight: Maxine Hunkel/Cyclone
Cameron Gellman: Rick Tyler/New Hourman
Jake Austin Walker: Henry King Jr./Brainwave Jr.
Stella Smith: Artemis Crock
Christopher James Baker: Alan Scott/Green Lantern or Henry King/Brainwave Sr.
Anjelika Washington: Jennifer Pierce/Lightning
Only the characters in the "Known for Sure" section have been confirmed by DC Universe and thus you can bank on them 100% accurate. "Characters (not confirmed by DC Universe)" are pretty safe bets in our minds but, until DC Universe says yes, you can't be 100% sure. Finally, the "Characters We Are Guessing On" is a section where we have done some research and believe these characters could easily align with their actors, but we also have varying degrees of certainty to them. Don't bank on these choices but use them as a guide to what could be.
Let us know what you think of this huge character breakdown in the comments below and in the forum!
6/26/2019 7:37 am

Comicbook fans will know about the ages of the comic industry. The ages go as follows; Golden Age (1938-1950), the Silver Age (1956-1970), the Bronze Age (1970-1985), and the Modern Age (1985-Present). While we may be in the modern age of comics today, we would argue that we are in the Golden Age of Comics on screen. The Marvel cinematic universe is the gold standard of comics on the movie screen, but the Arrowverse and developing Titanverse (which Stargirl is loosely a part of) is the gold standard for comics on the tv screen! One of the most refreshing elements of this Golden Age of comics on screen is the thoughtful inclusion of diversity.
According to Filmmusicreporter.com, Pinar Toprak, who magnificently scored Captain Marvel last Spring, is coming aboard to add the score to Stargirl! For those that don't know Toprak:
Pinar Toprak is a Turkish-American composer for film, television and video games. She has won two International Film Music Critics Association Awards for The Lightkeepers and The Wind Gods. Toprak was born and raised in Istanbul, Turkey, where she began her classical musical education at the age of five ~Wikipedia.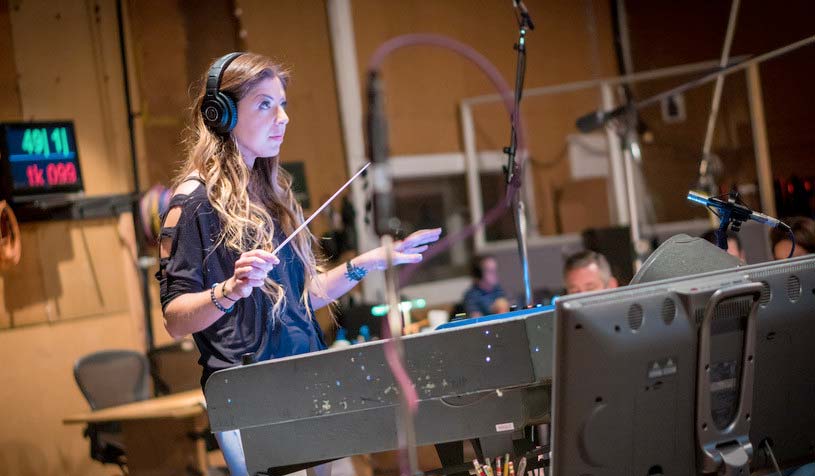 We loved Captain Marvel and the score was simply incredible. Bringing Toprak's talents to Stargirl is incredibly exciting! Seeing the purposeful choices to bring in female directors, composers and writers on a show about a female superhero is an important step for authentic storytelling.
Let us know what you think of the news in the comments below and in our forum!
6/23/2019 11:53 am

Another great milestone for Stargirl is complete! We reported at the end of May that Lea Thompson would be coming on board to direct an episode of Stargirl! Well yesterday, the director/actor, reported that she had finally wrapped her episode over several weeks of work! We know that this episode had a lot of night shoots that were pretty taxing on the cast but it also had one of the most epic fight scenes in the show so far! Brec Bassinger shared the aftermath of that battle scene on her Instagram which you can see below: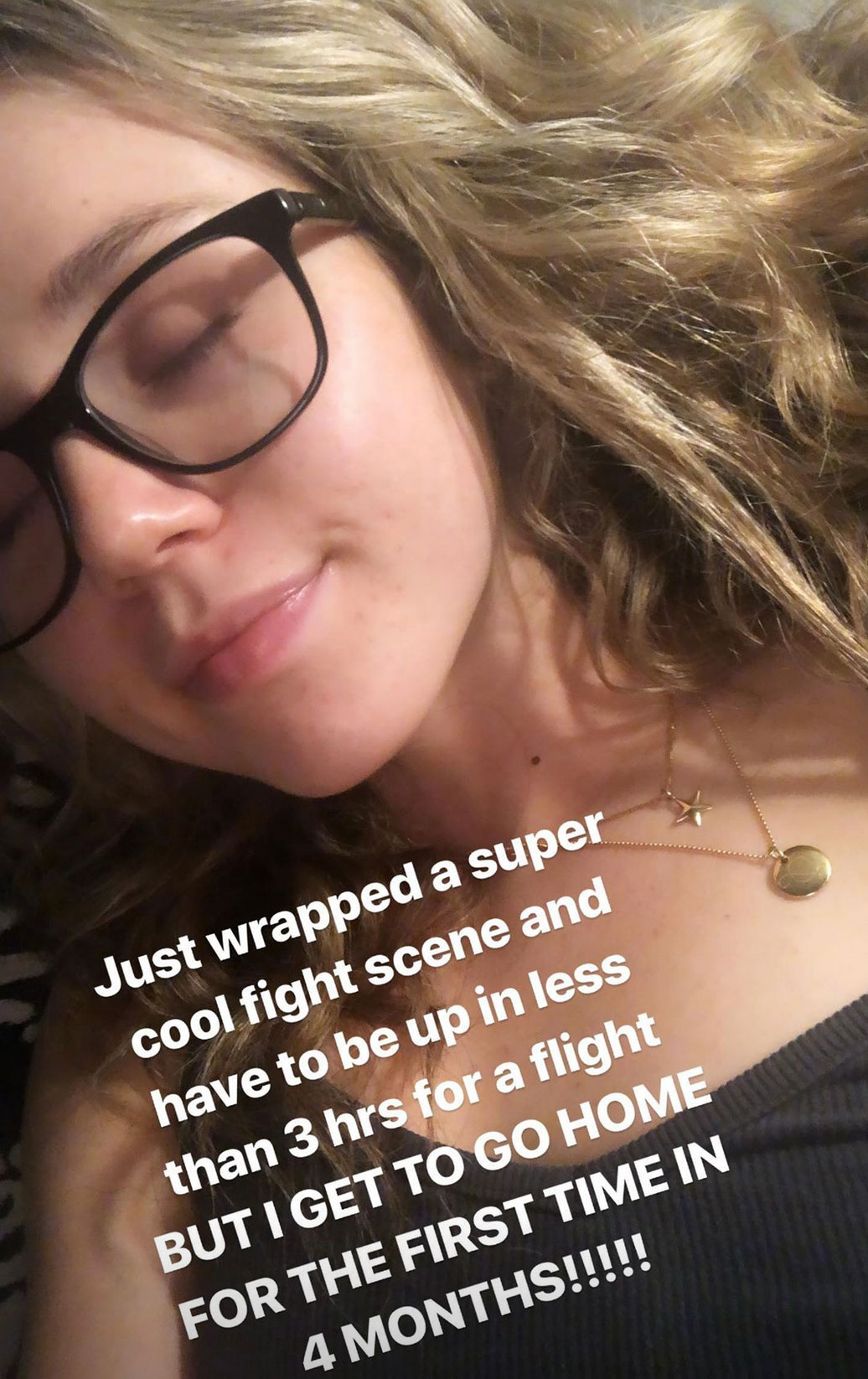 Lea Thompson was also excited and full of gratitude when she shared on her twitter her appreciation for the cast, crew and the opportunity to work on a DC Universe show. The director tweeted:
It's a wrap for me directing #stargirl THANK YOU! I had such a fantastic time with everyone. It's super epic and a huge opportunity for me [to work with] DC Comics. Luke Wilson, Brec Bassinger and Meg Delacy RULE!
Lea went on to share some behind the scenes photos of her episode and its wrap! Check those out below:
Let us know what you think of the behind the scenes images and the great messages from the cast and crew in the comments below or in our forum!
6/14/2019 10:14 am

There is a lot of speculation when it comes to who is playing who on this show. We believe that is because discovering who the characters end up becoming is part of the story. Obviously we know Brec Bassinger is Stargirl, but who is going to be Wildcat? Who becomes the new Dr Midnite or Hourman? We believe that is going to be a lot of fun when the show begins because, as the audience, we will get to see how the character discovers their persona along with them. One of those heroes, or possibly new villains, is Actor Stella Smith. DC Universe has confirmed for us that Stella is on the show as an "Undisclosed DC Character". We'll leave the speculation as to who she could be playing up to you!
Let us know who you think she'll play in the comments below and in our forum!
6/12/2019 10:39 am

The show continues to triumph along (no indications that there are any concerns from DC Universe and no connections to the Swamp Thing cancellation). A new batch of night shoots was ordered for what we believe is around episode seven or eight. This is certainly the mid-point for the show. With a thirteen episode order, Stargirl has filmed more that 50% of their first season run and with it, have found their ground and their characters (though many remain unannounced). The cast and crew took to social media to share the experience of the recent night shoots! We grabbed a few for you to see below: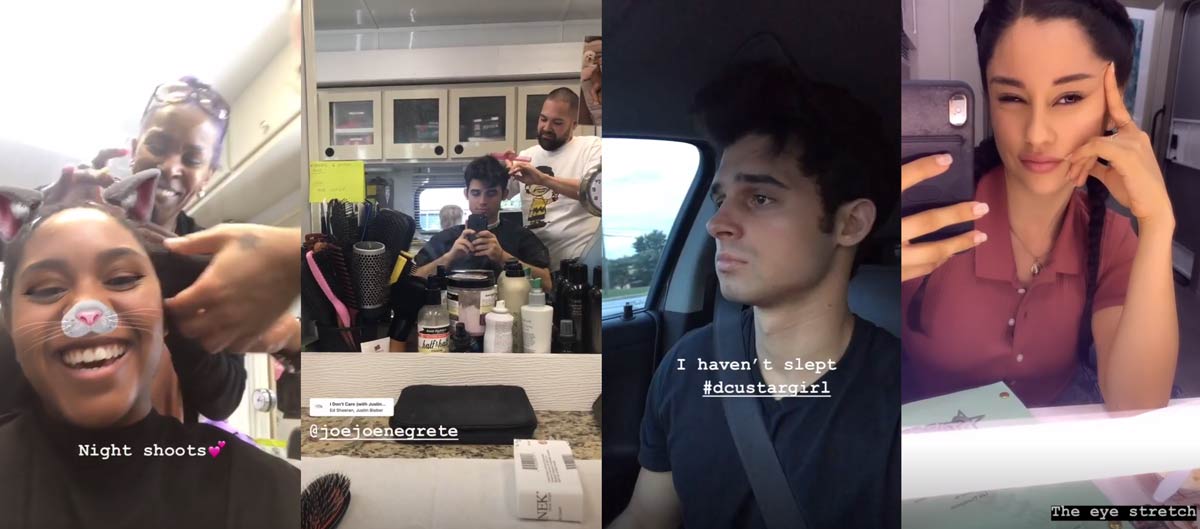 Don't forget to follow Anjelika Washington, Yvette Monreal, and Hunter Sansone on Instagram! Let us know your thoughts on increasing night shoots in the comments below or in our forum!