10/4/2018 11:36 am

DC Universe has released a new image that has the internet buzzing with excitement! The image in question (below) shows a release schedule for all the known original programing for the comic-based streaming service! Fans at New York Comic Con were treated to an advanced look at Titans yesterday along with surprise casting news for Doom Patrol (Matt Bomer joining as Negative Man). As NYCC continues, we're grabbing all the news that continues to pour out including this debut timeline.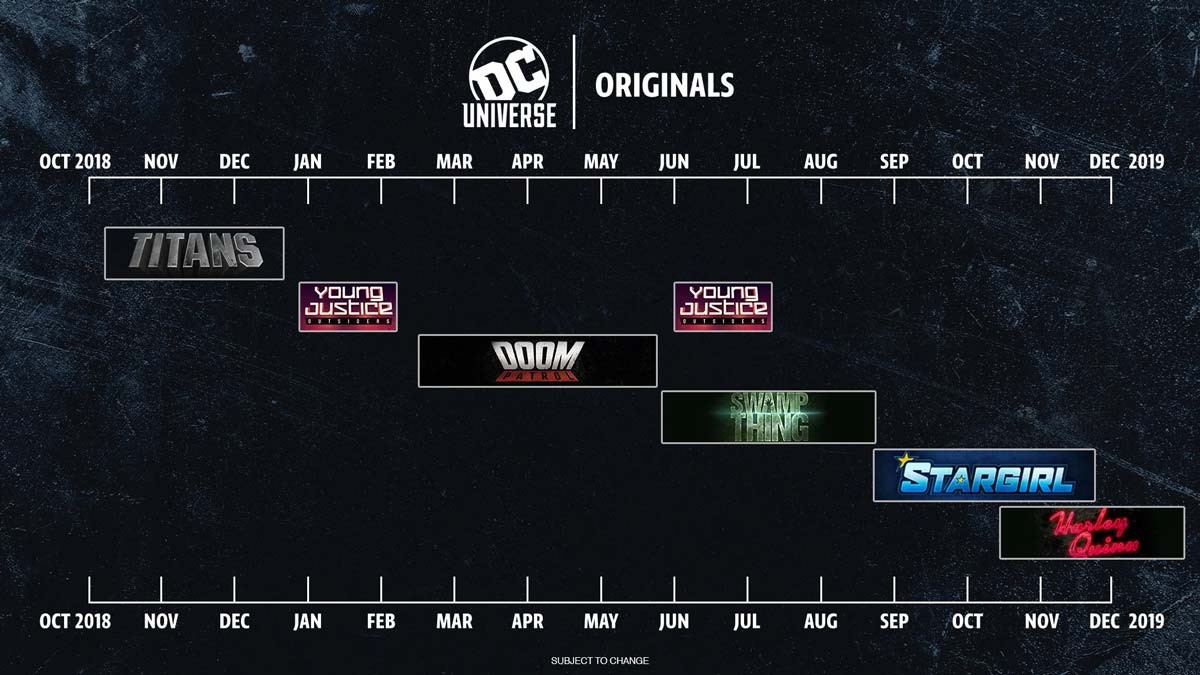 While no official start date has been set, we can put on our speculation hats for a moment and do a little math. DC Universe debuts original programing on Fridays. That could mean, according to the image above, Stargirl may debut on August 23rd. Also, and take this with a grain of salt, judging by the length of the image and assuming that there will be a new episode every Friday, that means season 1 could be 18 - 19 episodes long! That sounds pretty incredible to us! On the heels of Titans getting an early season 2 renewal, the DC Universe streaming service looks to be off to a bright start!
Let us know what you think of the start date and the estimated length of the season in the comments below and in the forum!
10/3/2018 7:45 am

Ever since Brec Bassinger took the title role of Courtney Whitmore, news has been a bit quiet. However, it's now October and New York Comic Con attendees are getting the chance to see Titans, the first live action original show on DC Universe this week! As the DC Universe platform starts to fill with original content, we took advantage of some of the other great options on the app to get a head start on Stargirl. If you are already a member of The DC Universe, then you have access to some incredible source material that will be very valuable as Stargirl begins to ramp up. The following are some comic choices we've found that are free to read with your DC Universe subscription that will give you a leg up on Stargirl:
Justice Society of America #1, February 2007, written by Geoff Johns
Justice Society of America #2, March 2007, written by Geoff Johns
Justice Society of America #3, April 2007, written by Geoff Johns
Justice Society of America #4, May 2007, written by Geoff Johns
Justice Society of America #5, June 2007, written by Geoff Johns
Justice Society of America #6, July 2007, written by Geoff Johns
Justice Society of America #7, August 2007, written by Geoff Johns
Justice Society of America #8, September 2007, written by Geoff Johns
Justice Society of America #9, October 2007, written by Geoff Johns
Justice Society of America #10, November 2007, written by Geoff Johns
Justice Society of America #11, December 2007, written by Geoff Johns
Justice Society of America #12, January 2008, written by Geoff Johns
If you haven't noticed the pattern yet, these comics were all written by Geoff Johns, Stargirl's creator and Executive Producer! Even more exciting is that this chronicles, among other great stories, the next iteration of the Justice Society of America and their recruiting process, something the TV Show's Courtney Whitmore is going to have to deal with quite a lot! If you aren't a member of The DC Universe yet and you are waiting until Stargirl is closer to premiere, we can understand, you can check out the collection of these stories on Amazon here.
Let us know if you've read these issues and or if you are already on The DC Universe in the comments below or in our forum!
9/20/2018 11:30 am

It's game time people! Stargirl has found its, well, star girl! Actor Brec Bassinger has booked the title role of Stargirl AKA Courtney Whitmore for DC Universe's Stargirl show being produced but Geoff Johns and the creative team behind the Arrowverse, Greg Berlanti and Sarah Schechter! As for a little more on our leading lady, Brec Bassinger's love for acting led her to move from Texas to Los Angeles at the age of 14 to embark on her career. Brec started working right away on Nickelodeon where she played the eponymous series lead role of "Bella" in "Bella & the Bulldogs" for several years. For a brief reminder, the character of Courtney Whitmore is described as:
Courtney Whitmore (aka Stargirl) is smart, athletic and above all else kind. This high school teenager's seemingly perfect life hits a major speedbump when her mother gets married and her new family moves from Los Angeles, California to Blue Valley, Nebraska. Struggling to adapt to a new school, make new friends and deal with a new step-family, Courtney discovers her step-father has a secret; he used to be the sidekick to a superhero. "Borrowing" the long-lost hero's cosmic staff, Courtney becomes the unlikely inspiration for an entirely new generation of superheroes.
Executive Producer and writer on the show, Geoff Johns had this to say about the casting decision:
There is no other character in comic books more special to me than STARGIRL, and after searching far and wide I can say there is no other actor on the planet that embodies her more than Brec Bassinger. Brec's warmth, strength, humor and positive energy are core to who Courtney Whitmore is. I'm so grateful she's signed on for the role.
STARGIRL follows high school sophomore Courtney Whitmore as she inspires an unlikely group of young heroes to stop the villains of the past. This new drama reimagines Stargirl and the very first superhero team, the Justice Society of America, in an unpredictable series. The project focuses on the character that started executive producer Geoff Johns' career as a comic book writer when he created her in 1999, lovingly inspired by his late sister, who was killed in a 1996 plane explosion.
Let us know what you think of this casting choice in the comments below and in our forum!
9/11/2018 2:04 pm

For those that saw the Titans trailer at Comic Con this year, there is no doubt that the DC based show is going to be a very dark and violent take on the superhero team. Also, just going off the titles of some of the other shows DC Universe is creating (Swampthing, Doom Patrol, Harley Quinn to name a few) it would seem like the streaming service is going to double down on the grit that was introduced in the DCEU. However, there is one key place where that is not true and Geoff Johns, Executive Producer of Stargirl had this to say via CBR.com:
For me, Stargirl was its own show with the Justice Society. That doesn't mean we wouldn't eventually do something, but the goal is just to make a great Stargirl show right now, and — if it happens to interconnect in the future with other things — great. I love that it's such a different tone than Titans or Doom Patrol that we're working on, because the service… DC Universe, the channel — it's bigger than a channel, I guess, because it's got comics and everything else — but it should have different types of shows, just like on Netflix. I love Ozark and I love GLOW, you know? And they're very different shows, and I think it's important to have a diversity of tones instead of everything fitting the same tone. I wanted to do Stargirl for a variety of reasons but part of it was to do something that was a lot of fun and young, really young. It'll be PG-13, but it really is for everybody, you know? It's for adult fans like us and it's for kids. I think everybody will be able to watch Stargirl, which is part of the appeal to it because you have generations of heroes.
The aspect of keeping the show young and available for all audiences is very intriguing. So far, no superhero shows have incorporated a younger hero element. The closest so far was one episode of Supergirl on The CW where we saw a young Alex Danvers and Kara Danvers in high school. To have a show built around the struggles of youth, high school, and heroism sounds like a new recipe for success we have yet to see in this golden age of comics on TV.
Let us know your thoughts in the comments below and in our forum! Special thanks to artist Fooray on Deviant Art who allowed us to use his incredible interpretation of Stargirl as our article intro image. We think this joy and smile perfectly embodies the tone of the show that we are going to see! Check out the full piece of work here.
9/9/2018 2:34 pm

Ten years ago, fans of Stargirl might have only dreamed of seeing a show centered around her but with the advent of The DC Universe streaming service as well as the sucess of shows like The CW's Supergirl, Arrow, and The Flash, that dream is easily a reality. While this is the first time that an entire show will be centered around Courtney Whitmore, it is important to know that this isn't the first time that fans have seen a live action version of Stargirl! Courtney made her live action debut in a special two part episode of Smallville titled "Absolute Justice". At the time, Courtney was played by Brit Irvin. Brit even reprised the role twice more in season ten of Smallville. More recently, Courtney appeared along side the epic team, Justice Society of America in The CW show, Legends of Tomorrow. This time she was played by Sarah Grey. In a somewhat bizarre twist, Courtney was lost in time and ended up in Camelot where she adopted the wizard mantle of Merlin.
Executive Producers, Greg Berlanti, Sarah Schechter and Geoff Johns, who have done a lot of work on The CW's shows, have a habit of making legacy casting choices. Legacy casting is a term used to describe when an actor who played a title role previously in a different show is brought back to play a new role in the new or current interpretation. A perfect example of this is Supergirl's Helen Slater, who was the original Supergirl from 1984, was brought in to play Eliza Danvers, Kara's adoptive mother. Supergirl is actually filled with examples like this. Dean Cain, Erica Durance, Teri Hatcher, and Laura Vandervoort have all appeared on Supergirl at some point and payed homage to their previous roles in some way.
With this trend being well established for this production company, it isn't unrealistic to think we might see Brit Irvin (33 years old) or Sarah Grey (22 years old) return in some way. While the actors are a bit older now then what the show is looking for in their title character lead, the opportunity for them to return as JSA team members, teachers at Blue Valley High or aunts/cousins who could ceremoniously pass on the mantle in some way easily exists.
Who these previous Courtney Whitmores might play are anyone's guess which is why we want to hear from you, who do you think they could play even if it's just a guest spot. Let us know what you think in the comments below and in the fourm!