9/28/2021 11:30 am

Stargirl's Summer School Chapter 6 brought the current JSA into focus and we all got to see the team work together in action! Even Mike Dugan got in with his flawless toaster attack. It's not been since the first episode that we've seen the original JSA work like Courtney's JSA does. That's not going to be the case after this episode. The highly anticipated flashback episode is nearly upon us and it welcomes Arrowverse alum, John Wesley Shipp and his version of Earth 2's Flash, aka Jay Garrick to the JSA. In the episode synopsis for Summer School Chapter 9, "Pat is reminded of painful memories from his past involving the original JSA and their fight to take down Eclipso." Check out the episode photos below:
Let us know your thoughts in the comments below and in the forum! Follow us on Twitter to get breaking news!
9/23/2021 4:53 pm

After the big flashback heavy episode, Summer School Chapter 9, it's time to get down to business with The JSA. Courtney will learn the secret that Barbara and Pat have been keeping from her in regards to Eclipso and possibly how the original JSA was able to take him down. The rift that will form between Pat and Courtney will have to be put aside because Green Lantern's powers might be the key to bringing down Eclipso and that means Courtney and Pat have to hunt down Jennie and bring her into the team! Beth also is up to her sleuthing and discovers more information about The Shade! Episode 10's full synopsis is below:
CHOSEN FAMILY — Courtney (Brec Bassinger) is left devastated after discovering a dark secret that Pat (Luke Wilson) has kept hidden from her. However, when they learn that Jennie (guest star Ysa Penarejo) may be able to help in their plan to stop Eclipso (Nick Tarabay), they're forced to put their issues aside as they set out on a road trip to find her. Meanwhile, Beth (Anjelika Washington) makes a shocking discovery about The Shade (guest star Jonathan Cake). Amy Smart, Trae Romano and Cameron Gellman also star. Sheelin Choksey directed the episode written by Taylor Steitz (#210). Original airdate 10/12/2021.
Let us know your thoughts in the comments below and in the forum! Follow us on Twitter to get breaking news!
9/21/2021 6:11 pm

Tonight's episode of Stargirl was a big one following the ISA vs JSA battle. Courtney's new JSA lost their first member as Yolanda made the choice to never put on the Wildcat costume again. She struggled throughout the episode to find a way to be forgiven for killing Brainwave and for what she felt was the only solution to Eclipso, killing him as well! Finally, when the dust was all settled, Yolanda couldn't find a path forward as she even killed Brainwave again in her vision. What was real, what was just in her mind, was any of it Eclipso? We spoke with Yvette Monreal herself to get the answers and highlight the Easter Eggs you might have missed!
Stargirl.tv: At the end of episode 206, Yolanda makes the declaration that "Eclipso must be killed", but at the end of 207, Yolanda quits the team. That's quite a big shift, tell us about the struggle Yolanda has gone through this episode.
It was really hard for Yolanda to see Cindy and Issac get eaten alive. I think she feels for them, of course, and she sees Eclipso as an [evil] villain and there needs to be some justification to kill him. She goes to the priest to try and make sense of how some people deserve to not be here anymore. [For example] Brainwave, if it wasn't Brainwave, it would have been her team. Yolanda is trying to make sense of this moral issue and she going back and forth with her feeling that she doesn't think that Eclipso should be here. Eclipso is trying to get rid of everyone and if it's not him it's everyone else.

She is trying to get the priest to recognize that this is [Yolanda] helping god. She'll be sacrificing this villain to save the rest of the world. There needs to be some kind of forgiveness. She's really trying to make sense of the whole situation because, in her mind, she's really trying to help, but, she cannot kill, in the Bible it's the biggest sin, so it's really hard for her, she's having a hard time.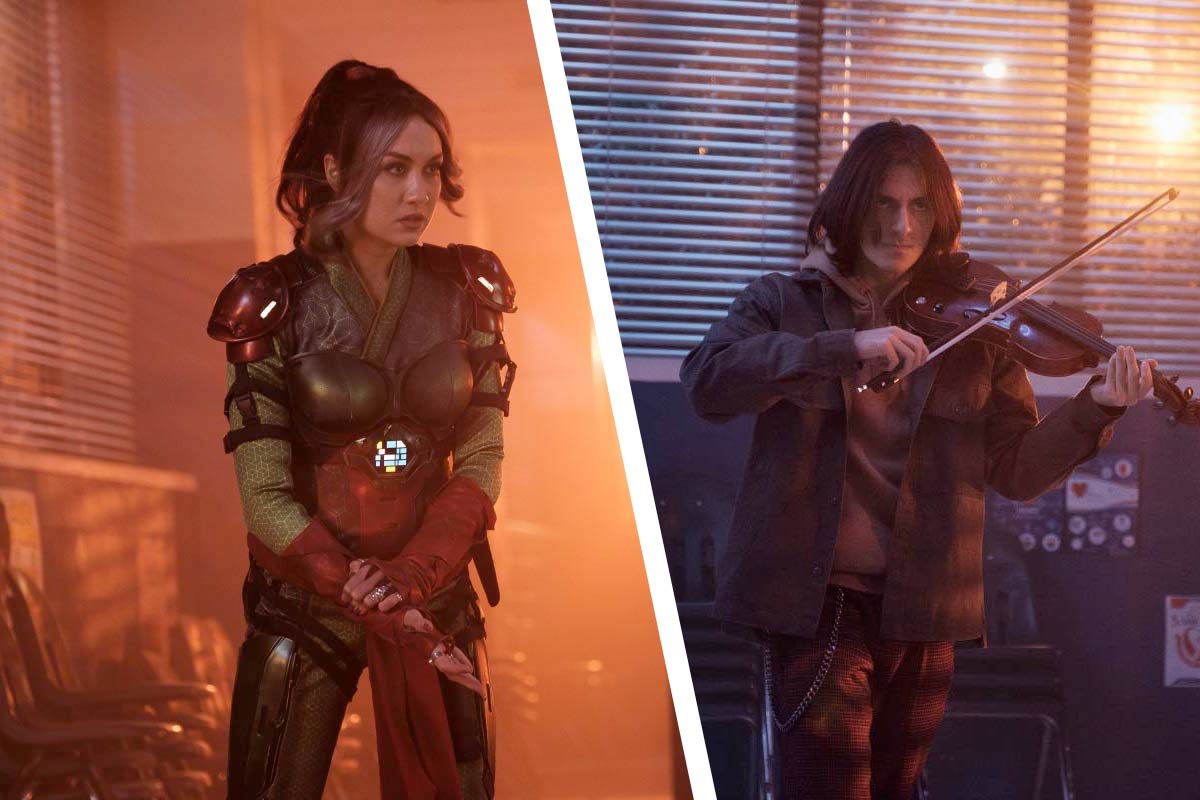 Stargirl.tv: Yolanda's visions seem to ramp up in intensity after she gives young Bruce Gordon a lollipop, is that coincidence?
From what I've learned from the writers, they always place little Easter Eggs on purpose, so I wouldn't completely dismiss that. It's definitely something that you'll see a little bit more going into the [future] episodes. It's probably an Easter egg.
Stargirl.tv: In true Eclipso fashion we are left wondering what is real, did Brainwave sync his mind with Yolanda? Will that be revisited?
Yes, Yolanda has this episode where she sees Henry, she sees Brainwave. It's all becoming a lot for her. She feels like its God's punishment and this is all happening because of her beliefs. Later on, the reason for why this happened does get revealed but for right now this is her wrong doing, this is because of the choices she made. She is coping with it and she really needs validation. She goes to Courtney for that and she doesn't really get [validation].
Stargirl.tv: The fight with Brainwave in the church has Yolanda held in the air and floated back towards Brainwave, is this the first time you been on wires?
That was so fun! I've been on wires in the first season when I was in Henry's father's hospital room. That's really fun when we get to do a little bit of action it's my favorite thing, I hope one day I can do all my stunts. But I have a stunt double and she does all the hard stuff. Like the throwing across the room, that looks so intense and it looks like it really hurts so I commend her for her ability to maneuver in a way so she doesn't get hurt. But, yes, it's really fun!
Stargirl.tv: Is it bittersweet to have Jake Austin Walker and Christopher Baker back for just one episode?
Oh my gosh, it was the best thing and honestly it was so hard to keep this from you guys because we are always posting these [behind the scenes] and all of these pictures have Jake, [he's] in so many of them and we have to be careful not post anything that he's in. We were told 'hey don't post anything not even that he's in Atlanta' because we didn't want to ruin any of that for our viewers. It was the best, we have so much fun on screen and off screen. It was the best to have him back.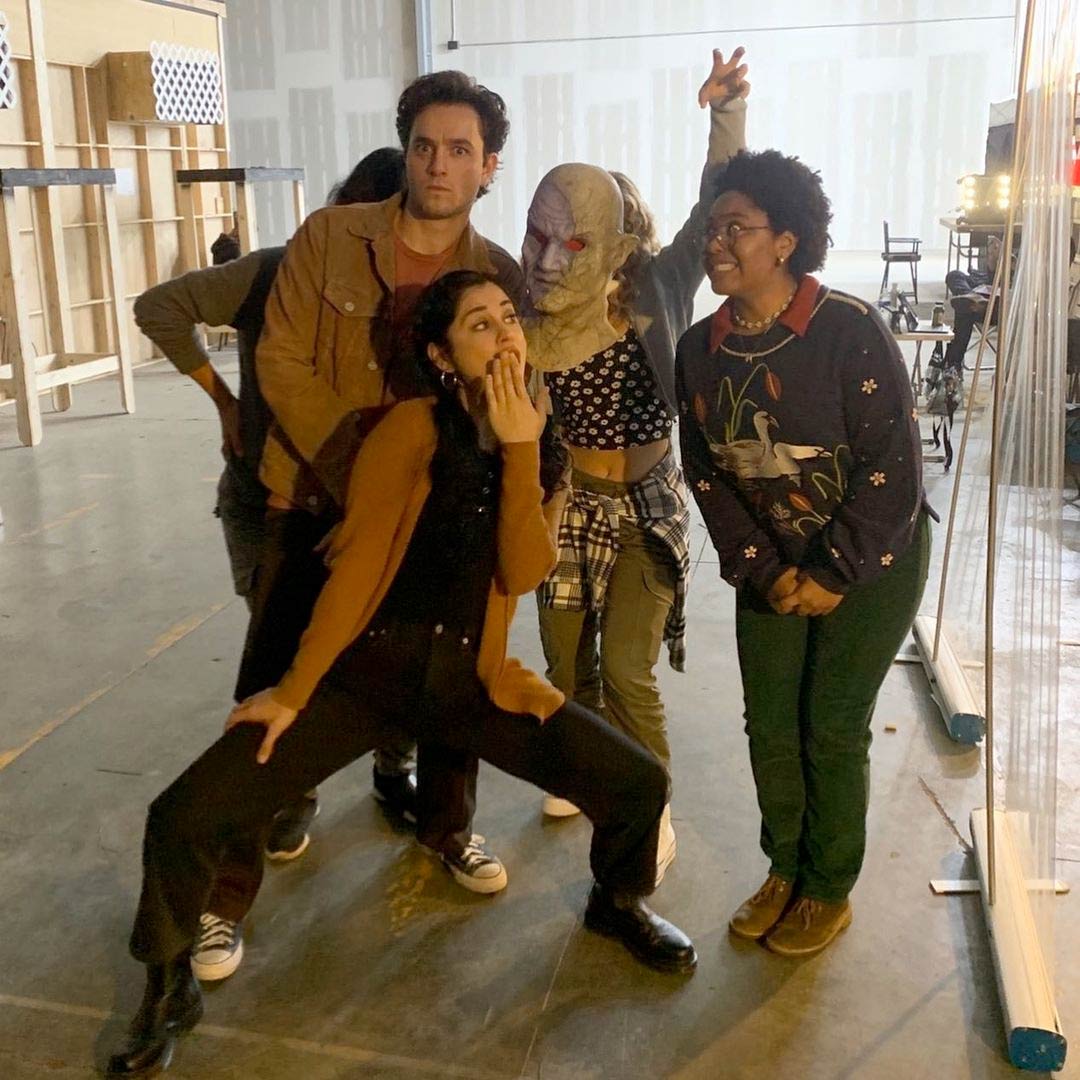 Stargirl.tv: It's clear that you guys are so close off screen, does that closeness, that chemistry come through on screen in your opinion?
We all love the time we spend together. I can see disconnections when I watch certain movies, you can really tell. I definitely think it really helps our performance. We all lift each other up too, that scene where [Yolanda] tells her truth about Brainwave to the whole JSA, they are all so supportive, [they say things like] 'that speech you killed it, oh my god that was the one!'. They're so uplifting, it helps make our performance better if we are all pumping each other up, it does have an affect on you. People talking crap behind your back, that's going to have an affect on you, so I appreciate the relationship we all have with each other for sure. We all love each other so much!
Stargirl.tv: What's your favorite or funniest memory filming season 2?
I really did enjoy filming the fighting sequences for episode 206. Our stunt coordinator actually directed it so he had us there during all hours and there was a lot of behind the scenes [work] that we didn't really get to see in season one with our director but [this time] we were able to be put in the room with our stunt people and we really got to see the work they put in. There's a whole new level of appreciation for them, I appreciated them in season one but this changed everything, I couldn't say more nice things about them, they are the fricking best!
Stargirl.tv: That whole episode was game-changing.
Wasn't it awesome?
Stargirl.tv: From what we've seen on social media, everyone agrees it just changed the show!
Yes! Honestly, it was the longest episode to shoot, but we knew it was going to look incredible.
Stargirl.tv: It really showed, it was 20 minutes almost of live-action superhero fighting on broadcast television, something almost never seen on other shows.
I know! I actually read the comments and they all say how the fighting is the best on our network [The CW], which we really appreciate it because our showrunner [Geoff Johns] is adamant about doing the fight sequence right, doing it of quality, so those comments mean everything to us, so we love that you guys love it.
Stargirl.tv: You guys are back for season three, with filming set to begin Oct 4th, are you heading back to Atlanta soon?
Yeah so today we actually just shipped our cars. I just met up with Cameron [Gellman] who plays Hourman, Meg [DeLacy] who plays Shiv, and Joy [Osmanski] who plays Tigress. We're all in LA but we're going to leave soon, October fourth is our first start date.
Stargirl.tv: @Retronormous asks: If you had to describe Wildcat with three foods, which would they be?
Ahh, let me think on this. Obviously the first thing that comes to mind is tacos because that's just a staple in my household. The next would be spaghetti, honestly these are just so random but they're relatable so it might not make sense to you. So spaghetti and meatballs, tacos, let's add something fiery. Hot Cheetos!
Our sincerest thanks to Yvette Monreal for taking time out of her very busy day to talk about Stargirl and Yolanda Montez. Be sure to follow her on twitter and instagram for all those great behind the scenes photos!
Let us know your thoughts in the comments below and in the forum! Follow us on Twitter to get breaking news!
9/21/2021 6:10 pm

Tonight, there isn't any other way to put it, the Justice Society of America took a big hit. Yolanda, and second member of Courtney's newly formed JSA has opted to hang up the cowl, and take off the mittens. Seeing Yolanda fight through her demons and not be able to rectify killing for the sake of survival was heartbreaking! We actually spoke with Yvette Monreal about the pivotal episode and what it means for Wildcat going forward! Check out that exclusive interview tomorrow! For now, we are looking ahead to episode eight, Beth is the newest Eclipso target and Rick is fighting to save someone you wouldn't believe, check out the trailer for next week's all new episode below:
Let us know your thoughts in the comments below and in the forum! Follow us on Twitter to get breaking news!
9/21/2021 6:00 pm
We have been saying for a while that episode six was going to be a game changer and it looks like you all agree! Some of our favorite comments were how "that fight scene could rival and movie fight scene today" and "Eclipso is absolutely terrifying"! We couldn't agree more. The staff vs Eclipso seems to have injured both and now they are on the mend. But as Pat said, Eclipso's way of healing is to manipulate, torment and punish. So while Courtney and the Cosmic Staff may be at 30%, you know Eclipso will target whomever he can! Our fears are that our young JSA members might not be able to get through the torment and that looks like exactly what's in store for Yolanda Montez! Here's what stood out to us:
Church Bell Rings: Yolanda is back in church sitting in the confession booth now armed with the knowledge that Eclipso is real and she wonders if the Devil is real. Yolanda continues to struggle with killing, but she is curious if she can be forgiven for killing something truly evil. Meanwhile, it's July 3rd in Blue Valley and the town is setting up for the fourth of July celebrations despite it being winter-like weather. Courtney is nursing the staff back to health and Pat and Courtney wonder why Eclipso hasn't made his move and how the weather gets worse. Barbara is the chair of The American Dream now and she suggests in liquidating their back stock to help out Oakville. After doing so, the meeting is adjourned and she is visited by something like The Shade. Whatever it is, its hurt.
Eclipso at Richie Rock's: Grumpy Joe is back in the diner and Yolanda's server friend offers to take him. He demands coffee now and Eclipso takes over her and she pours the hot coffee directly on Joe's shoulder! Maria is sent home for the day and Yolanda notices young Bruce Gordon aka Eclipso. She gets him a lollipop and Eclipso seems to be sedated enough from the event. Courtney and Beth discuss plans to try and find Eclipso but with the worsening weather, Beth is at a loss for next steps. Cameron goes to surprise Courtney and is pushed into a wall since Courtney is on edge. They two stumble back from the incident and Courtney agrees to help Cameron put up decorations. Mike begins his JSA training with Pat. It's going to take a lot of work to repair STRIPE. Yolanda's visions are getting worse and she reaches out to Courtney, but seeing her with Cameron she decides to let her friend have a date instead. Yolanda returns to Church for guidance but the father has brought in her mother. The mother is already on the attack when the Father asks her to stop and provide care. Yolanda sees Brainwave leave the Church and she chases after him to see an open street.
Visions in Summer School: The principal has come to take over the Summer School classes. Yolanda's visions are getting worse and worse and she isn't reaching out to Courtney for help. Yolanda thinks she sees Henry and chases after him. Henry tells Yolanda that he was never forgiven and for that he is burning in hell. This summons Brainwave in Yolanda's vision. Brainwave says he's with Yolanda forever when the vision breaks and we see that Yolanda never left the classroom. Courtney goes to assist Yolanda and suggests that it must be Eclipso doing this. Yolanda says she's been seeing these visions before Eclipso. Courtney suggests they tell Rick and Beth so they can face these issues as a team. Mike continues his training and sees the shards of the Black Diamond. He plays with them a bit but one of the shards gives him visions that he's covered in leeches! Pat arrives to calm him and warn him never to touch the shards.
Confessions of Wildcat: Courtney calls the JSA together at her home so Yolanda can tell the team she killed Brainwave not the satellite collapse. Rick is the first to defend Yolanda's action. Yolanda asks if Rick's hour was really up when he let Grundy go. Rick says that Yolanda did what she had to do and asks Beth to confirm but Beth says she "doesn't know". Yolanda knows that when they find Eclipso they are going to have to kill him. She thinks she'll be the only JSA member that kills. She'll have to take on that guilt and that burden so the rest of the team doesn't have to. Yolanda, ready to seek god's forgiveness goes back to Church to confess.
Battle with Brainwave: This time Brainwave appears in her vision and is taking over! He appears in physical form out of the confessional. Brainwave claims that while Yolanda stood over his dying body, he synced his mind with hers. Brainwave will take over Yolanda's body and live again! Courtney arrives with the staff to assist and finds Brainwave. To save her friend, Wildcat kills Brainwave again! This time the vision changes and it's Henry who's dying at Wildcat's hand! All of this is revealed to be a vision again and Courtney is there with the staff but not in costume. Courtney puts Yolanda's hand to the staff and she wakes from the nightmare. Yolanda is hurt and now is angry for Courtney making her Wildcat. Yolanda quits the team.
In the final wrap up moments, Courtney is seeking to get to Yolanda but her mother is blocking her at every pass. Her mother quits her job at the diner for her and it feels like her mother is locking Yolanda away from the world. The Whitmore/Dugan family decompress the day's events. They don't blame Yolanda and are sure she did what she had to. With Yolanda seemingly taken out of action we see that young Bruce Gordon aka Eclipso is standing outside of Beth's house. Was he pulling the strings on this the whole time? Beth seems to be his next target!
Let us know your thoughts in the comments below and in the forum! Follow us on Twitter to get breaking news!